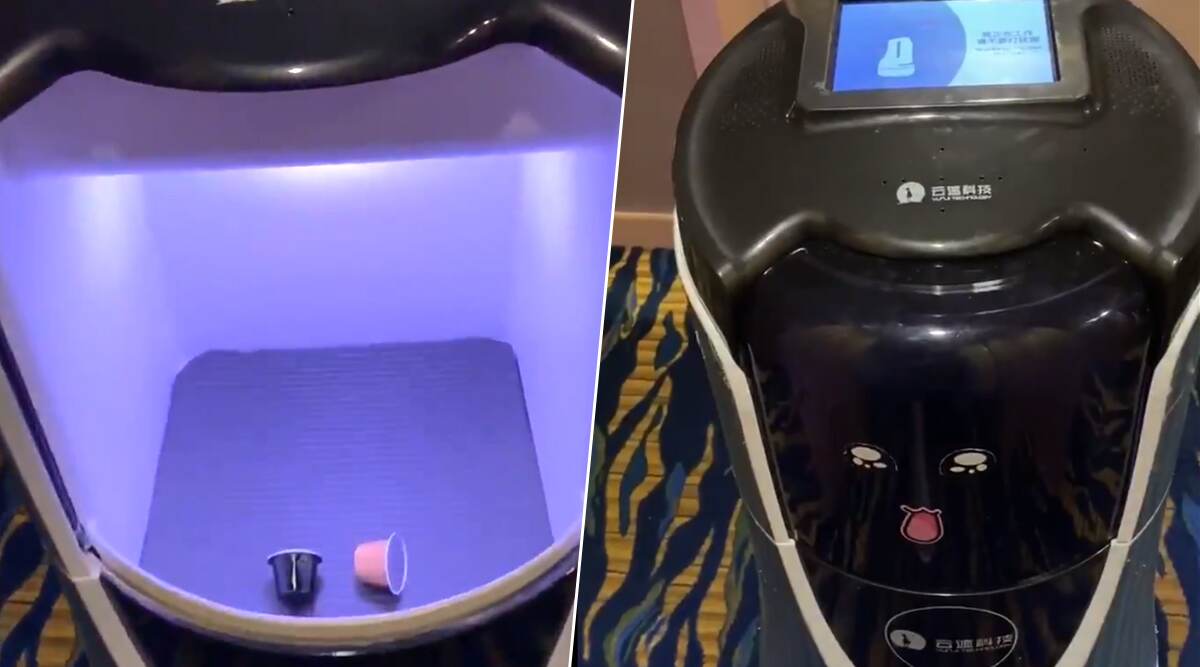 Machine replacing humans in China and Japan in the industrial world. This is something we have been hearing for a while now. We even saw robots working as room service in a few hotels in these countries. Through videos, of course! But such advancements leave us stunned and bewildered at the same time. Twitterati currently is very much in the same context, when an American journalist shared a video of her experience at a hotel in Shanghai. She ordered extra coffee pods, and a robot delivered it to her. The hotel's room service surprised the journalist, who then tweeted the video, sharing her experience online. Are Robots And AI Becoming Integral Part of Human Life? 6 Instances we Approved Their Existence. 
Anna Fifield, a Washington Post journalist, shared her unique experience with the machine which arrived at her door bearing the pods. After opening the door, Anna can be heard saying, "Good Morning, robot!" She pressed the 'open' button to take the pods—one regular, another decaf. Sharing the video, Anna said, "I called for more coffee pods in my Shanghai hotel room, and this is how they came to me." Japanese Hotel Fires 243 Robots For Creating Trouble Than Solving Them. 
Watch the Viral Video:
I called for more coffee pods in my Shanghai hotel room and this is how they came to me: pic.twitter.com/zqc9OLpXHA

— Anna Fifield (@annafifield) November 20, 2019
People were curious to know how the robot rang the doorbell. Anna said that the machine called on the room's phone and informed her that it was waiting outside, speaking both in English and Chinese.
How?
Room service but how does that robot knock on the door? https://t.co/1Vlx2PKNT9

— Don Fraser (@donscot23) November 20, 2019
Here's the Answer:
the robot called my room phone and told me (in Chinese and English) that it was waiting outside

— Anna Fifield (@annafifield) November 20, 2019
Twitterati was stunned too after the video went viral. Some thought it to be cute, and others felt it could be more generous with the pods. And there were a few who pointed out that the customer did not tip the robot! But again, a section of Tweeple had similar experiences to share.
Check Out the Reactions:
I want this for Christmas. https://t.co/uFxde3mrS7

— Carina Ost (@CarinaOst) November 20, 2019
Surely!
Y'all China is living in 3058 😳 https://t.co/QQmYVubyWP

— Grant Caswell (@TheGrantC) November 20, 2019
Pleasant Surprise in Beijing:
Yup had the same pleasant surprise experience in Beijing last month for my water and the best part was no tips required lol pic.twitter.com/d7hZar3X1o

— Richard N. Liu | 劉念祖 | 리처드 리우 | リチャード・N・リュー🇨🇦 (@richardliu18) November 20, 2019
Robot Room Service in South Korea:
I was staying in a hotel in South Korea last month. One of these robots pushed its way into the lift as I was trying to get out. I found myself talking to it saying let me out of the lift first. They need etiquette training. 🤖

— Mike Spinks (@mbspinks) November 20, 2019
And in Japan!
I was in Japan once and very jet lagged. I ordered room service and asked for 2 bottled waters. My food arrived with two Budweisers.

— Conceptual James (@adamTHX1138) November 20, 2019
China is going all out for automation. The country is increasingly manufacturing them for various industries. The government actively pursues its vision of 'Replacing Humans with Robots.' Advanced robotics are going to carry forward the trend. After all, machines can perform many tasks, efficiently and effectively. All they need is to be a little more generous for those who are to be placed in the hotel businesses to keep up with the hospitality that guests would otherwise expect.