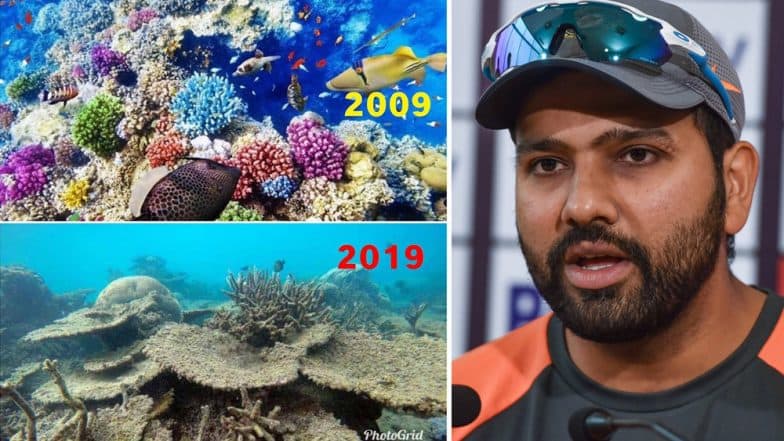 Social media timelines are currently filled with picture collages from 2009 in comparison with 2019. The #10YearChallenge has everyone, commoner and celebrities alike sharing pictures of themselves and looking back the change in them. But cricketer Rohit Sharma decided to use the challenge differently and it is something we all should think about. He shared a picture of coral reefs from 2009 and 2019 and the picture paints a rather grim picture, rather literally. The 2009 picture shows a lovely colourful coral reef versus 2019, which has all the corals dead and no fishes around. Spreading a very important message of environmental degradation and climate change, Rohit Sharma has used the #10YearChallenge to show us the reality. Rohit Sharma Shares First Picture of Daughter Along With Wife Ritika Sajdeh and It Is Adorable!
Several celebrities have shared their old pictures and documented their change in personalities over the years. While it is good to look at the old memories, it is a trend for the time being. Rohit Sharma, on the other hand, has brilliantly showcased the grim reality that we collectively as a population are creating. In the caption, he wrote, "The only #10YearChallenge we should be worried about." #10yearchallenge Grips Social Media, From Celebrities to Commoners Everyone Shares Before And After Photos from 2009 & 2019.
Check Rohit Sharma's Wonderful Message Through the #10YearChallenge
View this post on Instagram
It is a picture that will make us think. Similar is the case with the icebergs in Antarctica which are melting away with global warming. Enough has been said about climate change, the visible effects are seen in different parts of the world already. Fans too have appreciated Sharma's post for highlighting the sad reality. It is indeed a thoughtful post and an innovative way of taking the challenge with a topical issue.