Haryanvi singer-dancer and member of Bharatiya Janata Party (BJP) Sapna Choudhary released a new song to mark the first day of Sawan 2019. The auspicious month of Shravan according to Hindu calendar began on July 17 and Sapna's video has kicked it off in a grand fashion. Her song titled "Bhole Ka Swag" and it does live up to its name. However, the peppy track has also angered quite a few netizens who are slamming Sapna for disrespecting Lord Shiva and Hinduism. Sunny Leone Dances Hilariously on Sapna Chaudhary's Song 'Teri Aakhya Ka Yo Kajal' in This Viral Video!
"Bhole Ka Swag" is a music single released by Sonotek Music on July 12. It features Sapna Chaudhary along with Jonny Sufi. The voice is lent by Jony Sufi. Pradeep Sahil has written quirky lyrics of the song that revels in singing praises to Lord Shiva. Now for ages, prayers and songs dedicated to Shiva or Mahadeva revolve around the Supreme One's ascetic lifestyle, which includes his love for bhang (marijuana). However, people are raising objections on Sapna's music video for featuring scantily clad background dancers and presenting Hindu religion in poor light.
Watch Clip Posted By Sapna Choudhary on Her Instagram Handle
View this post on Instagram
Sapna who shared a short clip from the song on her Instagram handle is facing severe backlash. One user writes, "Aise songs kyu banate hoo....Bhagwaan k song me Kch dhang k kapde pinadete back dancers koo 😡😡". This roughly translates to – Why such songs are made…devotional songs on gods should have background dancers in decent outfits. Another agitated commenter says, "Pure hindu dharm ka Bhagwan ke bhajan ka majak Bana Rakha Hai" (it's mockery of Hindu religion). Fans are quite angry at Sapna Choudhary and highly unpleased with the singer-dancer for her recent act.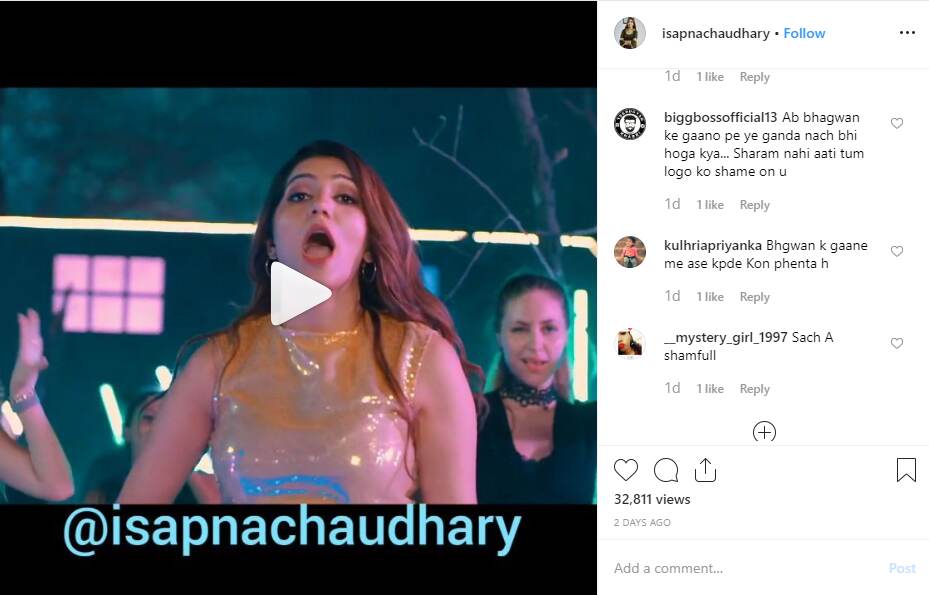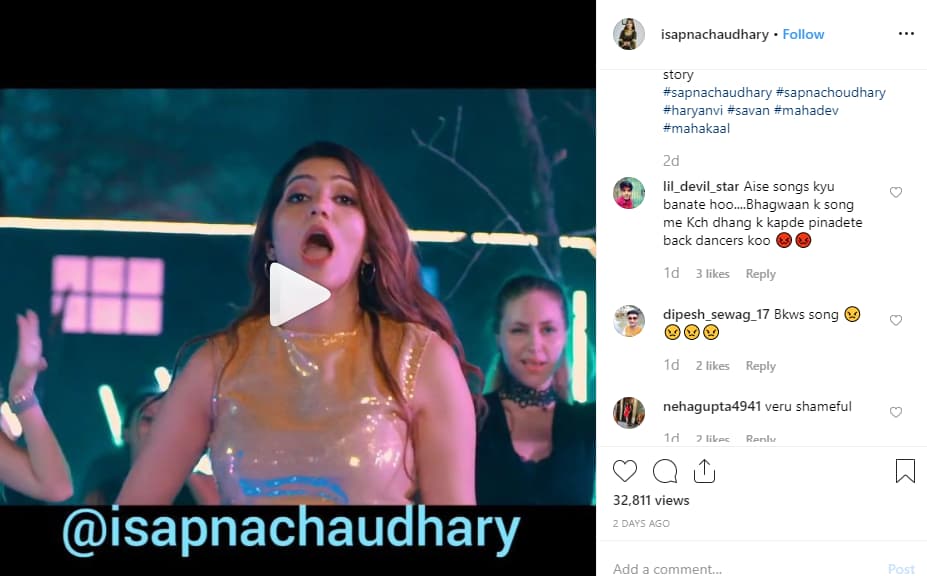 Watch Video of Bhole Ka Swag Featuring Sapna Choudhary
Speaking of Sawan, it is one of the holiest months according to Hindu calendar. It began on July 17 and last until August 15. It is dedicated to Lord Shiva and Mata Parvati. Many Hindus observe fast (vrat) every Monday during this period to please Lord Shiva and/or every Tuesday to the Goddess Parvati. Fasting on Mondays are called Solah Somvar Vrat while fasting on Tuesdays of this month is known as Mangala Gauri Vrat.