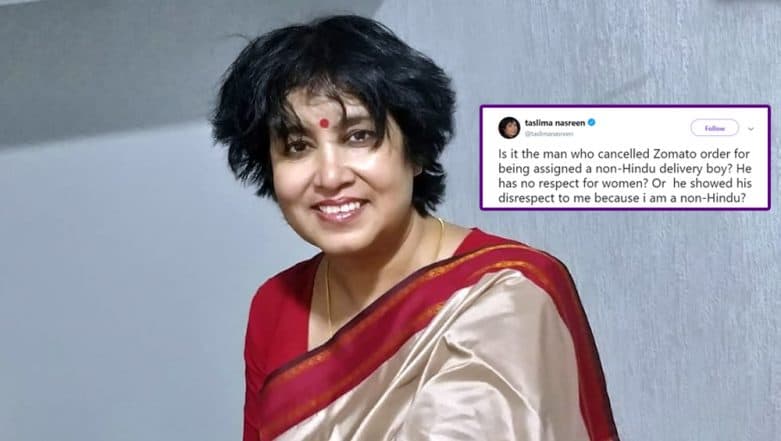 Amit Shukla, the guy who cancelled Zomato order because the delivery guy was a Non-Hindu has already stirred controversy online. Now author Taslima Nasreen has shared an old tweet from years ago which shows the same man making a distasteful comment on her appearance. She reacted to the cheap comment asking if the disrespect was directed to her for being a Non-Hindu person. Taslima shared a screenshot of her tweet from 2013 which had Amit Shukla commenting on her appearance. He wrote, "well i say you have grt boobs hope you like my comment." Amit Shukla drew immense criticism for cancelling his order over the religion of the delivery boy of the online food ordering service this week. Zomato Shuts Down Bigoted Customer Who Cancelled Food Delivery From Non-Hindu, Says 'Food Doesn't Have Religion', Wins Hearts.
Taslima Nasreen had shared a picture of her from Kennedy School, Harvard University back then on which Amit Shukla commented on her breasts! Nasreen shared the screenshot of the same on her Twitter account yesterday. She questioned if he has no respect for women at all or was it based solely on her religion. With this tweet, Shukla has gained even more criticism from people online. He was served a notice by the Madhya Pradesh police, two days ago. He has also been warned of jail term if found spewing communal venom in the future. Shukla was given the notice demanding a written undertaking that he would not spread hatred which may disturb social and religious harmony.
Check Taslima Nasreen's Reaction on Amit Shukla's Tweet:
Is it the man who cancelled Zomato order for being assigned a non-Hindu delivery boy? He has no respect for women? Or he showed his disrespect to me because i am a non-Hindu? pic.twitter.com/PS8tBICGU4

— taslima nasreen (@taslimanasreen) August 2, 2019
People on Twitter mentioned that he has made distasteful comments about other women in the past and called him out for harbouring a misogynistic attitude. He was given a notice under section 107 (security for keeping peace) of the Criminal Procedure Code (CrPC) as informed by the Superintendent of Police. He has also been put under surveillance. Zomato's Response to Bigoted Customer Evokes Reaction From Congress Leader P Chidambaram.
Watch Video of Amit Shukla Given Notice by The Police:
Amit Shukla while he posted about cancelling his Zomato order, also posted screenshots of his chat with the customer executive. He mentioned that because the holy month of Sawan is ongoing in which people abstain from eating non-veg food. While Zomato replied that, 'Food Food doesn't have a religion. It is a religion.' Zomato's reply won hearts on Twitter and people loved their stand.