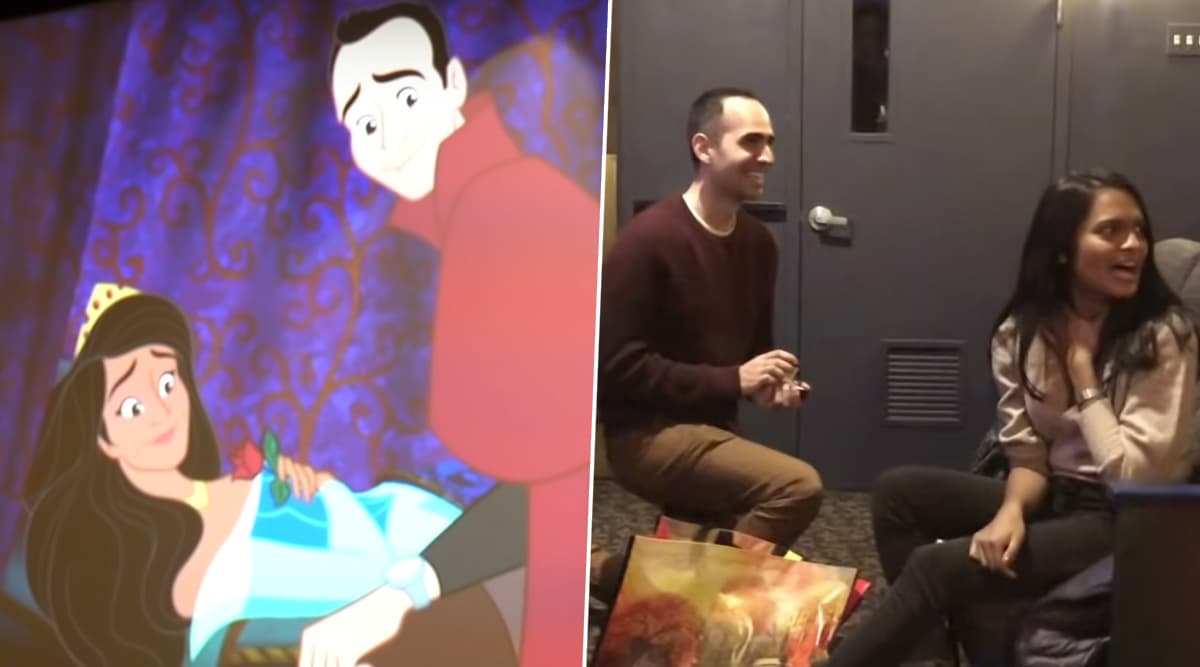 The Internet has always been blessed with romantic proposals, and then there came this one! Lee Loechler just rewrote the idea of the marriage proposal and Disney's classic Sleeping Beauty. Well, he animated his girlfriend into the movie as Princess Aurora and himself as Prince Phillip, before bending down on one knee to ask the magical question—"Will You Marry Me?" How often do you see such cuteness? Almost NEVER! Loechler may have just raised the bar with his creative approach to propose. Better take notes, lovers! The viral video of this Sleeping Beauty proposal is winning hearts online. It could not be any more of a tear-jerker! Real-Life Sleeping Beauty Fails Exams After She Naps for 3 Weeks at a Time: What Is Kleine-Levin Syndrome?
Loechler was preparing for six months and was finally ready to propose his high school lover, Sthuthi David. He spent these months with an animator and together, they rewrote history putting Loechler and David into Walt Disney's Sleeping Beauty. It is our lover boy's favourite movie, by the way! During a screening at the Coolidge Screening Room in Brookline, Massachusetts, David managed to screen the altered version of the animated classic. He had a camera set up to record his girlfriend's reactions as the film diverged from the expected path and became closely surreal to watch.
The film's prince charming appeared to toss him a ring from inside the screen itself. He catches it and bends down on one knee. While sharing the video on social media, David said that the theatre was filled with family and friends, when he popped the question. How romantic!
Watch the Video Here:
It is a heart-warming video, and the animation is top-notch! The Prince and Princess are also edited just like Loechler and David. It is not every day you propose! And the day has to special for your significant half. We must thank the internet for showering so many surreal experiences upon us.