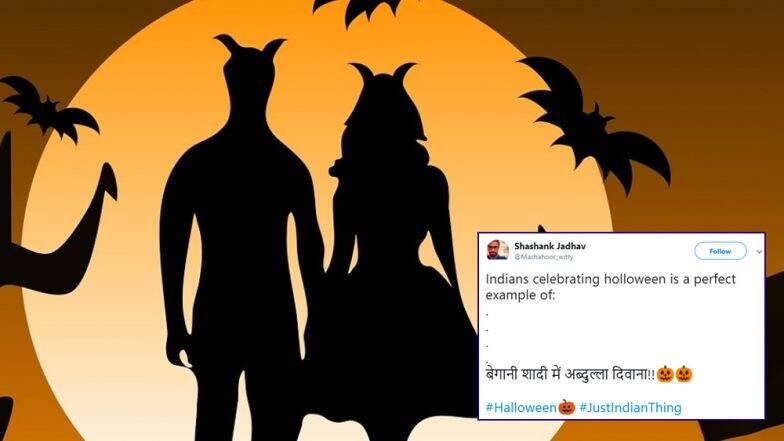 Halloween, a US observance has spread across the globe in recent years. The festival which is celebrated on October 31 in the United States has its roots in pagan history and European culture. But with westernisation, it has spread across countries and Indians in recent years have started celebrating the day with much enthusiasm. Meanwhile, Twitterati can't stop wondering why Indians celebrate Halloween and the social networking site is filled with puns and jokes on it.
The B-town known for being fashion pioneers in the country, makes it a point to dress in their scariest costumes. Some even said that people looked more enthusiastic about Halloween than Diwali. Twitter just couldn't wrap head around the fact that Indians are actually celebrating a day that has no religious or traditional significance. Halloween 2018 Decorations! United States Prefer Dead Bats to Make the Festival More Spooky.
Here are the some of the tweets:
Indians celebrating #Halloween ... what is wrong with you guys ? pic.twitter.com/2oPkCIcGOn

— Dawood (@SyedDawood26) November 1, 2018
Nobody knows why
Indians celebrating #Halloween pic.twitter.com/aYAibiRBdf

— Mr. A (@Abhishek_Atwal) November 1, 2018
Indians celebrating Halloween is worse than the guys returning with an American accent, after a month's visit to the US.

— MI (@mkk3601) October 31, 2018
As clueless as that?
Indians celebrating Halloween is like Americans celebrating Chatt Pooja.

— Arjun (@Zoomfatak) October 28, 2018
So my flat mate thought my work was being racist because my co workers were dressed in saris ( he thouhht they dressed as Indians for Halloween) and I was like uh no they are celebrating diwali all week 😂😂

— morgan (@StanS0N) November 1, 2018
Lol! Who even invited you?
Indians celebrating holloween is a perfect example of:

.

.

.

.

बेगानी शादी में अब्दुल्ला दिवाना!!🎃🎃#Halloween #JustIndianThing

— Shashank Jadhav (@Mashahoor_witty) October 29, 2018
Let's leave cultural appropriation for them
Black people /Indians /Asians shouldn't be celebrating Halloween because that would be culturally appropriating a white man's culture 😂😂😂#Halloween

— Ncham ❌#WalkAway #Blexit (@Ncham45) October 22, 2018
According to Pagan traditions, it is believed that on the night of Halloween, the door between this world and the other is opened and spirits could pass through. Also, that the border between the living and the dead would become blurred. The beliefs reached America only in the second half of the nineteenth century and Irish popularised it there. Today it is the second largest commercial celebration in the country.