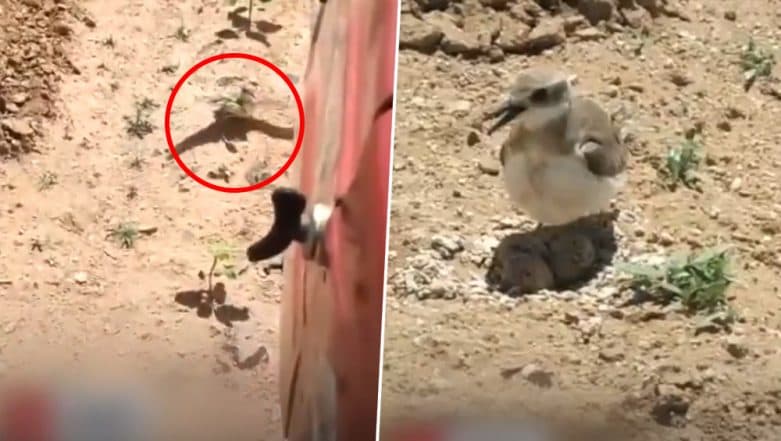 Mothers are incomparable and even a whole dictionary will fall short to describe their love. However, this isn't just the case in humans but in animals too. There is a lot of evidence that has shown that animal mothers have gone above and beyond to protect their kids. A recent video that proves once again that mothers will rather put their lives at risk than have their kids harmed is of bird momma who didn't fear a tractor when it came to protecting their babies. This video of a mother bird protecting her eggs by forcing a tractor to stop is making social media emotional. The video is said to have been shot in North China where a bird can be seen spreading its wings to stop the tractor that seems to get closer to her eggs. Her rigorous wing flattering to stop the tractor is going viral and for all the right reason. In the video, one can see the bird spreading its wing as the tractor gets closer to her eggs.
Check the video for yourself:
Mother bird stops moving tractor to protect eggs pic.twitter.com/CWyA28rbvI

— CGTN (@CGTNOfficial) July 10, 2019
Twitter is totally loving the video and cannot stop talking about the mother bird. Check out some reactions:
Great video. Brave little mom bird 🐦

— 🌊 Lyn (@amblyninaz) July 10, 2019
Beautiful
Greatest of all. The love showed by a driver for mother bird that he is so kindhearted with full of love and emotions in his heart❤️

— Sanyam Dhariwal (@DhariwalSanyam) July 10, 2019
This
Hats off to you Mother Bird. 🤗....Only a mother can go anh lengths to take care of her offsprings

— Rishabh Vakiil (@Rish74) July 12, 2019
True
Mother,in any form, life givers.

— robin thounaoja (@thounaoja) July 12, 2019
Love
Isn't this amazing!! Never seen anything like this before, cute 🐤 stay blessed

— Diya40 (@Diya401) July 12, 2019
These are the kind of viral videos that we want to see on the internet. People all around the world are falling in love with this video.