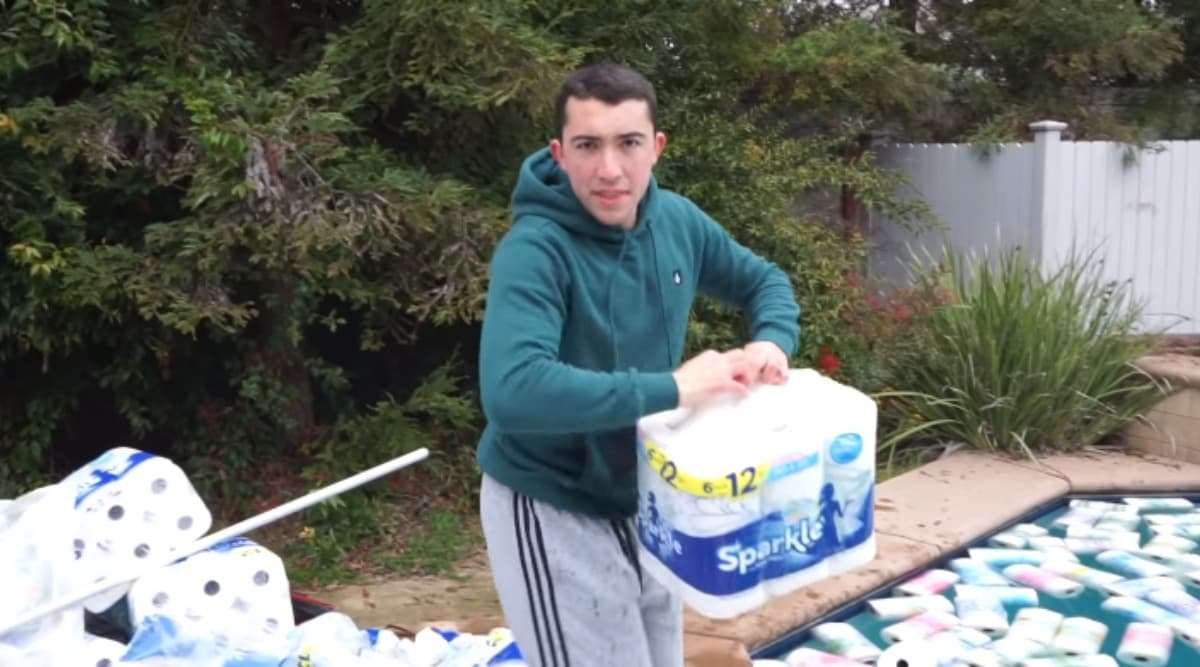 A YouTuber is being criticised for using thousands of paper towels to soak up the water of a pool. Tyler Oliveira, a YouTuber with more than 5,87,000 subscribers tried drying a pool using paper towels and uploaded the whole incident of social media platforms. And his video titled, "Can 1,000,000 Paper Towels Absorb A Swimming Pool?" has been viewed more than 1.5 lakh times As the video went viral, people criticised his act and called him out for wastage of resources. An internet user commented, "I can't believe how many trees he wasted." YouTuber Chris Monroe Kisses His Sister In a 'Prank' Video, Horrified Fans Trash Him on Social Media.
Oliver said that the idea struck after a video of him trying a soak up a glass of water he did "accidentally" spill in his swimming pool went viral. In the start of the video, he says, "Little did I know, the rest of the world shared my curiosity, and I'd sparked a question across the nation." Oliver then goes on to explain that ordered "100,000 paper towels to my home" to see if he could come up with an answer. The video shows his throwing entire rolls of paper towels in his swimming in an attempt to soak it up. YouTubers Jake, RiceGum Lands in Controversy for Promoting Mystery Box Gambling Site.
YouTuber Tries to Soak up a Pool Using 1,000,000 Paper Towels:
While throwing the rolls into the poll, he says, "We're destroying these paper towel rolls right now. We're still barely making a dent into this moist swimming pool. After drowning 10,000 paper towels, Oliveira realised that the rolls can soak the pool. His experiment doesn't end there, he then attempts to throw the water bear paper towels in the garbage and tries to light id up.
As criticisms mounted on the YouTuber he defended himself saying "these paper towels existed independently of whether or not I would have used them". He said, "These paper towels existed and would have been used at some point in the foreseeable future. But yes, perhaps, I had a micro impact on the demand for paper towels throughout the entire paper towel industry. Who knows." Later, Oliveira accepted that he "may not have considered it's net consequence on the Earth," but people failed "to reflect on their own respective impact, and are just as guilty".