India lost the One Day International (ODI) series against England, earlier this week, and surprisingly all the limelight is being hogged by the former Indian captain, Mahendra Singh Dhoni! Former? Not really. If the profile bio of Indian cricketers were to be checked on the official website of Board of Control for Cricket in India (BCCI), the captain of the Indian cricket team still happens to be MS Dhoni. Yes, you read that right! Not Virat Kohli, but MS Dhoni.
People on social media, i.e. on Twitter and Facebook, had a laugh riot on the issue where the former Indian captain MS Dhoni was mentioned as the current captain of the Indian team.
Twitterati had a field day, on July 19, and Dhoni was cited as the team captain still. We bring you some of the hilarious tweets that were doing the rounds on Twitter.
1. Virat Kohli Fan Asks To Repair The Mistake. BCCI, Please?
@BCCI dear bcci, please remember current captain of indian cricket team is king virat kohli not ms dhoni so please repair your mistake. pic.twitter.com/67U59wKpUJ

— Pravin Badgujar (@PravinBadguja16) July 19, 2018
2. MS Dhoni fans are not to be blamed, MIND IT!
Well BCCI 😂😂😂 now dont tell me MS Dhoni forced them to do so or his fans are doing it 🙊 pic.twitter.com/XticFc4isp

— MS Dhoni Fanclub🏏 (@msdiansworld) July 19, 2018
3. Does BCCI Want MSD The Captain, Back?
It feels like BCCI wants its previous captain(@msdhoni) to take charge again or they might have forgotten to update their website. However, as fan of MSD we appreciate BCCI for remembering MSD as a captain(Masterofstrategy)#MSDhoni #ViratKohli #BCCI #Indiancricketteam #Captain pic.twitter.com/UbcNm4F8Zf

— Chandra Mouli Tummala (@mouli127) July 19, 2018
4. Please clarify, BCCI!
There was rumour about #MSD retirement but #BCCI still believes who is the skipper!!! @msdhoni still remains the boss @BCCI #ENGvIND #DhoniRetirementTalk pic.twitter.com/YsgTO9ThSD

— Pushkar (@ppushp7) July 19, 2018
5. It Has Been Two Years, Still
He left Captaincy 2 years ago & still BCCI thinks he is the Captain of Team India

.

This is #BCCI's official App 👇

All r Temporary captain but..

Captain Cool is Permanent captain of Team 🇮🇳#MSDhoni pic.twitter.com/wArwHs0V8z

— Rinki Singh Dhoni (@RinkiMsd7) July 19, 2018
However, as per the latest screenshot of BCCI's official website, the mistake has been corrected. The designation of 'captain' is where it rightfully should be, written against Virat Kohli's name. You can check it below.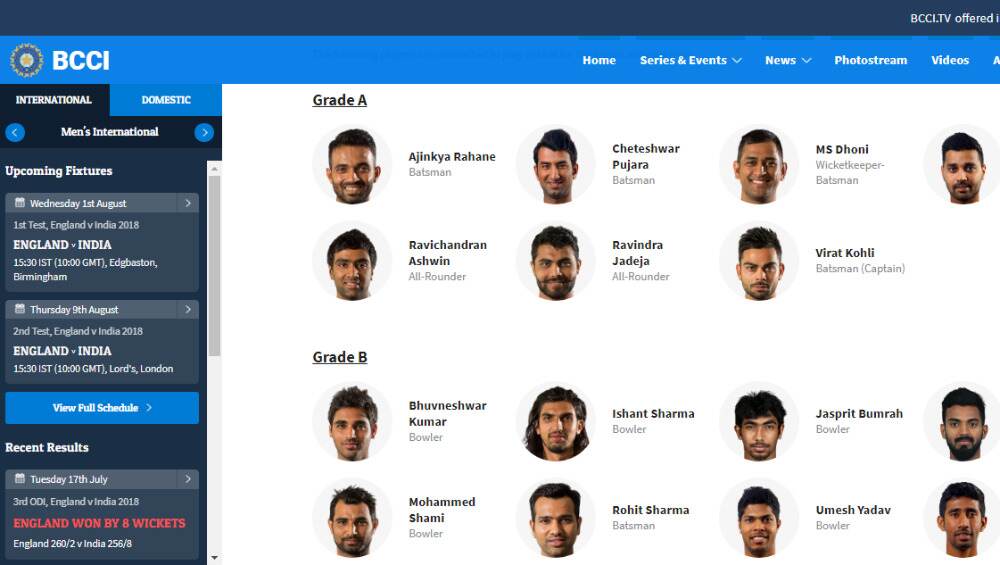 Earlier, MS Dhoni was the centre of attention when the Indian team lost 2-1 to England in the recently concluded ODI series. The visuals which came surfaced online after the match, of Dhoni taking the match ball from the match umpires, sparked speculations that MS Dhoni is soon going to retire. However, head coach Ravi Shastri dismissed all such thoughts the other day.
For the record, MS Dhoni stepped down from the captaincy role in ODIs and T20Is in January 2017. In Test cricket, he had stepped down in 2014, during the Test series against Australia.