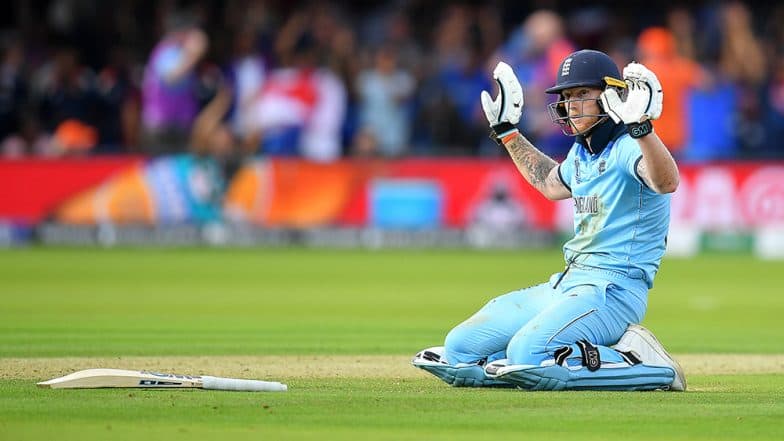 The throw by Martin Guptill that went to the boundary after bouncing off Ben Stokes' bat can be definitely called as the turning point of the ICC CWC 2019 New Zealand vs England final match. The incident gifted the hosts 6 runs instead of 2, helping them reach New Zealand's total of 241 while batting second.  Take Up Baking, Not Sport: Jimmy Neesham to Kids After Nerve-Wrecking World Cup Loss Against England.
While England needed nine runs off three balls, Ben Stokes and Adil Rashid took two runs and Guptill's throw hit Stokes' bat and reached the boundary. A controversy erupted over the incident whether the English side should have been given five runs instead of six. 'Should England' also started trending on Twitter due to the controversy.  Eoin Morgan Calls Cricket World Cup Win An Incredible Journey After England Beat New Zealand in ICC CWC 2019 Final. 
According to ICC Rule 19.8 for 'Overthrow or wilful act of fielder', if the boundary results from an overthrow or from the wilful act of the fielder, the runs scored shall be any runs for penalties awarded to either side and the allowance for the boundary and the runs completed by the batsmen, together with the run in progress if they had already crossed at the instant of the throw or act.
So according to the ICC rules, four runs are added to the runs in progress if the batsmen had already crossed each other at the time of the throw. However, videos showed that during the time of Guptill's throw, Stokes and Rashid had not crossed each other while taking the second run and therefore, fans started questioning allotment of six runs in the incident by umpires.
The overthrow changed the victory equation for England, who just needed three runs of last two to win the match. However, the match tied after Eoin Morgon's side equalled New Zealand score of 241 after 50 overs. The match went to super over which also tied after both the teams scored 15 runs each. Since England scored more number of boundaries than New Zealand, they were declared as the winners of the match and hence, lifted the World Cup 2019 trophy.