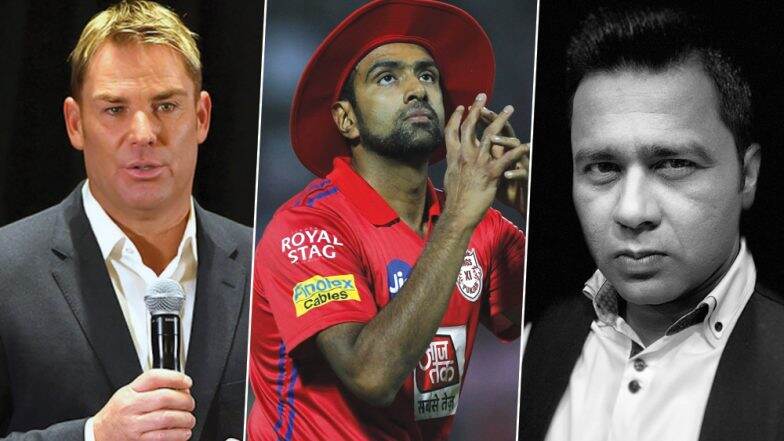 Ravichandran Ashwin has ignited an old debate in a new way. The spinner, who was leading Kings XI Punjab team against the Rajasthan Royals in Monday's contest, broke all hell loose after he mankaded Jos Buttler, changing the course of the match. However, Ashwin's 'mankading' act became a topic of raging debate on Twitter with both the past and present cricketers giving their point of view on the issue. Rule books were thrown at each other and the 'spirit of the game' discussed with a passion that has not been seen in recent times. The fact that Buttler was not giving a warning before being dismissed has irked many fans. Ravichandran Ashwin Mankads Jos Buttler as Kings XI Punjab Beat Rajasthan Royals by 14 Runs in VIVO IPL 2019, KXIP vs RR.
While many fans and cricketers criticised Ashwin for dismissing Jos Buttler the way he did, many Indian cricketers including commentators and especially bowlers defended Ashwin's action. The cricketing world has been left divided on whether Ashwin hurt the "spirit of the game", or was he merely playing by the rule book. Many are also saying that Ashwin purposely stopped in his bowling action to trick Jos Buttler before taking off the bails. KXIP beat RR by 14 runs | Kings XI Punjab vs Rajasthan Royals Live Cricket Score 4th T20 Match.
Read a few Twitter Echanges Below:
The Great Shane Warne Had This to Say About the Incident
Last point on the embarrassing & disgraceful act of @ashwinravi99 ! This win at all costs mentality has got to stop & the integrity of the game along with the spirit of the game must be of the most importance, as we need to set examples to the young boys & girls playing cricket !

— Shane Warne (@ShaneWarne) March 25, 2019
Warne did not just stop at single tweet:
So disappointed in @ashwinravi99 as a Captain & as a person. All captains sign the #IPL wall & agree to play in the spirit of the game. RA had no intention of delivering the ball - so it should have been called a dead ball. Over to u BCCI - this a not a good look for the #IPL

— Shane Warne (@ShaneWarne) March 25, 2019
Former Indian cricketer turned commentator Aakash Chopra, who was also calling for the match, defended Ashwin:
Law is above The Mythical Spirit of The Game. Don't fret. Don't frown. #Ashwin #Buttler #RRvKXIP #IPL

— Aakash Chopra (@cricketaakash) March 25, 2019
Former Indian Pacer RP Singh Also Came to Ashwin's Defense:
Ashwin was completely within his rights to dismiss butler there. Don't understand how Spirit of Cricket can be questioned. How many times have u seen a batsman wait for Umpires decision when he knew he was out? #RRvKXIP #IPL

— R P Singh रुद्र प्रताप सिंह (@rpsingh) March 25, 2019
Former New Zealand Cricketer Scott Styris Threw the Rule Book in to Prove His Point:
OFFICIAL Playing condition interpretation

If you believe Buttler wouldve been in his crease when Ashwin delivered the ball he is NOT OUT pic.twitter.com/bqciVJRUd5

— Scott Styris (@scottbstyris) March 25, 2019
But Cricket Commentator Harsha Bhogle Begged to Differ:
My final point on this. Ashwin ran Buttler out. It went to the 3rd umpire who is on the ICC Elite panel. He looked at the replays & said the non-striker was out. He is the custodian of the laws & playing conditions. So irrespective of what Ashwin did, it was the umpire's decision

— Harsha Bhogle (@bhogleharsha) March 25, 2019
Mohammed Kaif Seemed to Provide a Balanced Answer:
It's within the laws of the game but Jos Butler should have been warned by Ashwin before that. Very Surprised ! Remember Ashwin doing the same in an international game where Sehwag withdrew the appeal.

— Mohammad Kaif (@MohammadKaif) March 25, 2019
English Cricketer Jason Roy Was Really Offended With Ashwin's Actions:
Ashwin, that's shocking behaviour! Very disappointed to see that.

— Jason Roy (@JasonRoy20) March 25, 2019
The reactions are still flowing in as players and fans continue to remain divided over the issue as the above tweets suggest. It is one of those issues that really doesn't seem to have a final answer. Was Ashwin right in taking that extra pause in his bowling action? Was Buttler justified in dragging his bat outside the line even though his bat was in the crease when Ashwin reached near the stumps? And most importantly, shouldn't Buttler have been given a warning before declared out? We leave you to answer the questions and decide accordingly.