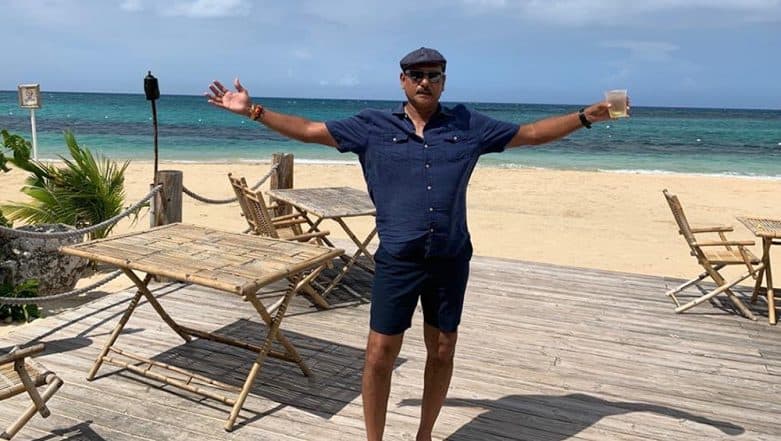 Indian Cricket team coach Ravi Shastri posted a picture on social media with a glass of drink on his left hand. In the picture he can be seen enjoying the bright sunshine near a beach in Jamaica. Indian team just wrapped up the 2 matches Test Series in West Indies where they won by 2-0. Ravi Shastri has been recently re-appointed as the head coach for Team India. Meanwhile, let us have a look on how Ravi Shastri get trolled by Netizens for his picture with caption, 'The punch in my left hand tastes divine'. Ravi Shastri Appointed as Team India Head Coach; Netizens Post Funny Memes to Slam BCCI Over Indian Cricket Team Coach Selection Drama!
Kapil Dev led CAC re-appointed Ravi Shastri as head coach on Aug 16, 2019. Ravi Shastri was among the 5 shortlisted candidates who were interviewed by the 3-member panel in Mumbai on August 16 this year. Shastri gave his interview from the West Indies and had to present lot of data to justify his selection. His main focus is on the team to win maximum titles and develop performance of individual player as match-winnner. Ravi Shastri will continue to work with the senior men's team until the T20 World Cup in November 2021. Ravi Shastri Trolled for His Latest Picture on Twitter; Netizens Ask the Indian Coach to Focus on Fitness.
Shastri is not Spoiling His Boys
Drinking alone instead of spoiling the team by coaching them, we will always remember your sacrifice sir, respect.

— Scar (@RAC7R) September 4, 2019
Shastri Teased as a Big Drinker 
Good one coach enjoy pic.twitter.com/c0P5OBe8RG

— Pradeep (@PradeepNU1) September 4, 2019
Ravi Shastri Should Also Be Given Some Accompaniment 
Sir Apke liye special chakhna🙏🏼 pic.twitter.com/aOi1A7J8fD

— Kaju Katli (@MonkNxtDoor) September 4, 2019
Ravi Shastri Has Developed Good Beer Pot Shaped Belly 
Even the Paunch looks 8 Months Divine 🤣🤣🤣

— Chowkidar Mihir Pandya (@IamMihirPandya) September 4, 2019
Ravi Shastri Found Drunk in Jogeshwari, Mumbai?
Jamaica??? Aapko aaj maine Jogeshwari mein dekha. Full-to out the pic.twitter.com/jl4cfXimIH

— Mark Fernandes (@marcferns) September 4, 2019
Ravi Shastri had a successful tour as an Indian coach in West Indies, as India won all three formats of the game in Caribbean island. India currently ranks top on ICC World Test Championship table with 120 points. India will now play 3 matches T20I series at home against South Africa from Sept 15, 2019.