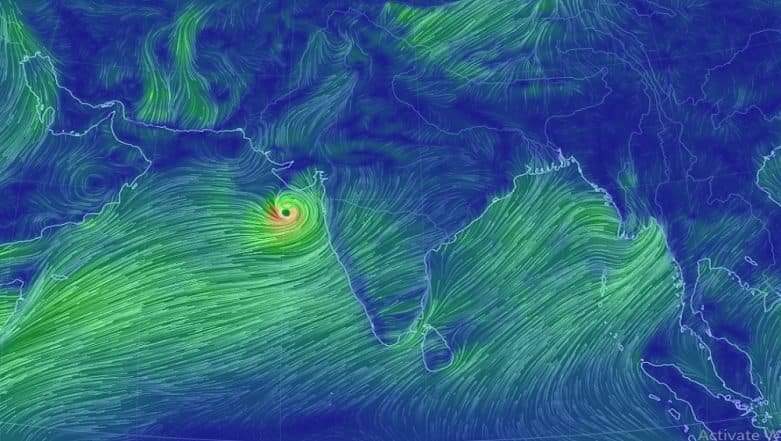 New Delhi, June 12: The Cyclone Vayu is likely to hit the Gujarat coast tomorrow i.e June 13. Thousands of people living near coastal areas in the state have been evacuated as Cyclone Vayu is closing in. A portal - earth.nullschool.net - tracks movements of cyclonic winds and storms across the world. The tracker gives real-time updates on movements of cyclones.
To check live movement of Cyclone Vayu, you need to visit the website earth.nullschool.net and zoom in to the Arabian Sea. You will find a cyclonic storm approaching the Gujarat coast. In view of the Cyclone Vayu, a red alert has been sounded in Gujarat. Fire and rescue teams have also been put on alert. The Navy has kept itself ready to respond to any developing situation expeditiously.
The National Disaster Response Force (NDRF) has mobilised 35 teams in Gujarat and four teams in Diu in coordination with the local administration. Rescue teams of SDRF, Army, Coast Guard, and BSF are also in the readiness. Cyclone Vayu is likely to cause heavy rainfall in the coastal districts of Gujarat along with storm surge, which may cause inundation in the low lying coastal areas of Dwarka, Porbandar, Junagarh, Diu, Gir, Somnath, Amreli and Bhavnagar districts at the time of landfall.
"It (Cyclone Vayu) is very likely to move northwards and cross Gujarat coast between Porbandar and Mahuva around Veraval and Diu region as a very severe cyclonic storm with wind speed 140-150 kmph gusting to 165 kmph around the morning of June 13," the Indian Meteorological Department (IMD) had said in a statement.