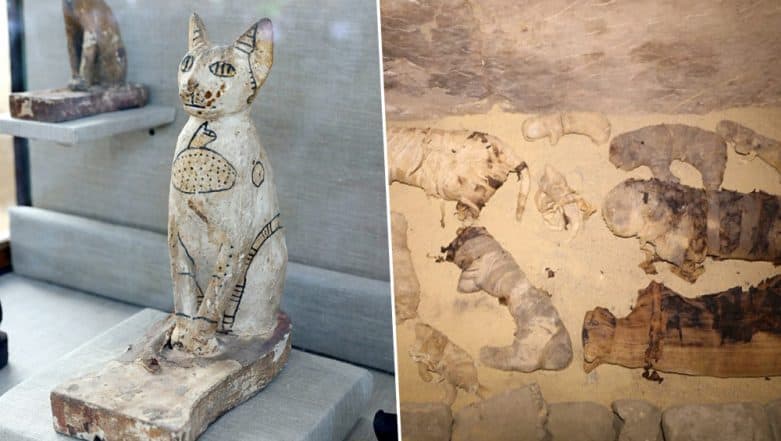 The Egyptian soils have several secrets underneath and every time archaeologists take an excavation, there is something new to discover. Although we have seen in the literature about Egyptian's loving the feline creature, the Ministry of Antiquities revealed about a discovery of mass excavation of mummified cats. About 7 tombs of mummified cats were discovered in an archaeological mission at a burial site in the south of Cairo. Along with the mummies, they also found a bronze statue of the Goddess of Cats, Bastet. Ancient Egyptian Mummies: Mystery Behind 4,000-Year-Old 'Two Brothers' Mummies Solved.
This tomb dates back to the more than 5,000 years ago and along with the tomb for cats, there were four other sarcophagi, the contents of which aren't seen yet. Besides, scarab beetles were also unearthed from one of the sections. Beetles are also said to be sacred in ancient Egypt times. The Ministry of Antiquities announced the discoveries hoping to get more visitors to the ancient lands and heritage sites. They have also tweeted the pictures of these mummified cats to attract more people. Tiny Mummy Alien Mystery Finally Solved, Know What The Skeleton from Atacama Means. 
Check out the Mummified Cats Discovered in Excavations at Cairo
#Tens of #cats #mummies were unearthed in #Saqqara #necropolis along with 100 wooden #gilded #statues of #cats and a bronze one dedicated to the cat #goddess #bastet. pic.twitter.com/g0oSQPBhL8

— Ministry of Antiquities-Arab Republic of Egypt (@AntiquitiesOf) November 10, 2018
#mummies of #cats #discoverd in #Saqqara (#Discovery pic.twitter.com/AFRNERfHBn

— Ministry of Antiquities-Arab Republic of Egypt (@AntiquitiesOf) November 10, 2018
The tourism in the area is seeing a fall recently and the aim of this discovery is to attract more and more tourists to these spots, which hold a significant place in ancient Egyptian history. They used to mummify their pets as a way of taking them to the afterlife. It is also compared to lighting a candle in remembrance of the dead. Researchers have also found statues depicting lion, cow and a falcon.