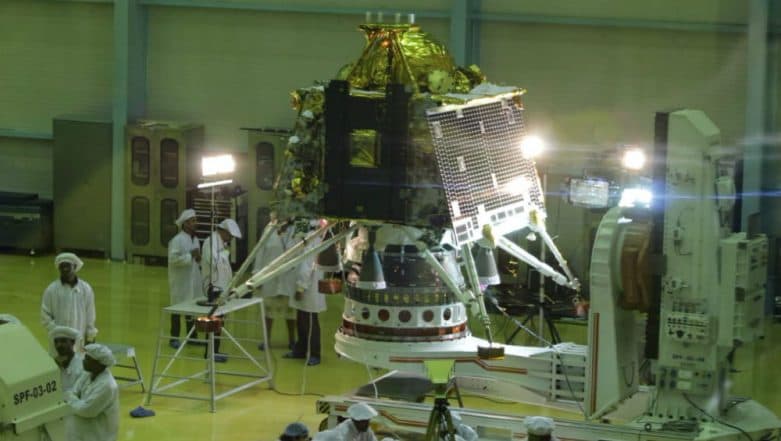 New Delhi, July 9: The world is eagerly waiting to see the next move India takes in the field of space technology. On July 15, the Indian Space Research Organisation (ISRO) has announced that Chandrayaan-2 will be launched on July 15.  On Monday, ISRO released photos of the moon mission, just ahead of the big launch. Chandrayaan-2 New Images: ISRO Releases Photos of Moon Mission A Week Ahead of Launch, Describes Features.
The ambitious Chandrayaan-2 costs Rs 1,000-crores and weighs 27-kilograms and has six wheels. All three components - orbiter, lander, and rover - will be equipped with requisite scientific instruments required to study the Moon.
Date & Time
Chandrayaan-2 will be launched at 2:51 am on July 15. Chandrayaan-2's rover and lander - Pragyaan and Vikram - are expected to soft-land on the moon's surface on September 6.  Reportedly, no human beings will be carried to the Moon surface, since it is a completely robotic mission.
As per the schedule, Chandrayaan-2 is slated to lift off from Sriharikota using Geosynchronous Satellite Launch Vehicle (GSLV) Mark 3 on Monday at around 2:51 am. This is regarded as India's most powerful rocket.
Where to Watch
Doordarshan (DD) will live telecast the Chandrayaan 2 launch. Doordarshan's youtube channel will live stream the event. Reliance Jio users can watch it on Jio TV.
According to reports, ISRO has initiated the online registration process for watching the upcoming Chandrayaan-2 launch. The registration has begun at 00:00 hrs on July 4, 2019. This is to enable the public to view ISRO's ambition Chandrayaan 2 launch.
After the successful completion of the project, India will become the fifth country in the world after the United States, China, Russia, and Israel to successfully perform a "soft landing" of an unmanned mission on the moon.