Siri, Apple's virtual assistant service is quite famous for its weird answers that it gives to the iPhone users from time to time. Another such incident is wherein Siri gave the most bizarre response yet the strangest response that an iPhone user can receive as an answer. When Siri is asked to define a word that has multiple meanings, the virtual assistant asks the user repeatedly if he/she wishes to hear the next meaning in search results. See More: iPhone 8, iPhone 8 Plus (Product RED) Available for Pre-order in India on Flipkart at Rs 67,490; Will go on Sale on April 30
In this particular case, an iPhone user asked Siri to define 'mother', it gives surprisingly terribly wrong and explicit response that one can expect. Skipping all the alternative, Siri defines it as a noun which is a short for 'motherfucker'. See Also: After Facebook Row, Now Twitter in Question! Reports Suggest Micro-Blogging Platform Sold Data to Cambridge Analytica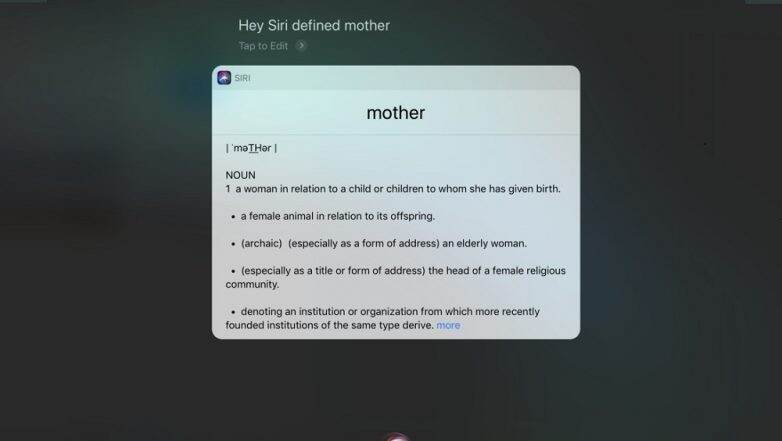 Apple's virtual assistant seems to be drawing the definition from Oxford Dictionary which offers the terribly wrong answer as a secondary definition of the word – Mother. Taping on the more button after Siri pulls up the definition – 'short for motherfucker', it is listed in plain text right in the response.
Going by the Oxford Dictionary, it offers 4 different sub-definition of the word – Mother that would be used more often. However, Siri skips all the options and gives the most explicit response without any warning. Read More: Facebook Rolls out A Downvote Button in Comments for Preventing Fake News
Over the period of time, Apple's voice navigation service has been criticized for lackluster language support and emergency intellectual capabilities. Making Siri swear sometimes does become a sport for some Apple Fanatics which can easily tricked into some expletives that turns into a fun for about 45 seconds.
(The above story first appeared on LatestLY on Apr 30, 2018 05:25 PM IST. For more news and updates on politics, world, sports, entertainment and lifestyle, log on to our website latestly.com).