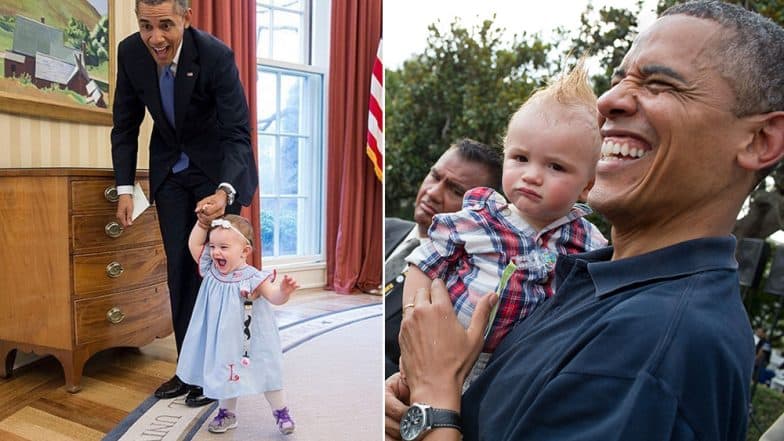 Former American President Barack Obama turns 58 today! Born on August 4, 1961, Obama served as the 44th President of the United States from 2009 to 2017. Even after his tenure, the first African American who was elected to the presidency continues to be known as the coolest POTUS. From playing with babies, joking around with his juniors, being popular among the youth, the American politician won many hearts during his presidency. It was some of the pictures clicked by former Chief Official White House Photographer, Peter Joseph Souza who gave us a glimpse into the fun-loving President's social, personal and work life. Of which his pictures with babies and children were considered the most adorable ones. Barack Obama Becomes Santa Claus For Children's Hospital in Washington, Watch Video and Pics of Former US President.
From crawling in the Oval Office with toddlers to stopping babies from crying, he always waves his magic wand around kids. While sharing one of the pictures of Obama with twin children in his arms on Instagram, Peter Souza begins saying, "People trusted him with their babies." And the pictures are proof that they really did. Often during public meetings, in a crowd, he would randomly take babies in his arms and raise them up. Pictures of him playing around with these little ones would often go viral, making the internet smile. It's as if he has a special connection with them, making them all giggle, simply by holding them. As the former President turns 58, we take a look at some of the best pictures of Obama with babies that is sure to put a smile on everyone's face. Did You Know the American President Has to Pay for Groceries at White House? Michelle Obama Talks About Paying Bills in Her Book 'Becoming'.
Such an Adorable Photo!
Halloween, Said Who? Both Can't Hide the Cuteness
View this post on Instagram
The Way He is Holding Her Toes!
View this post on Instagram
There Seem to be Nothing as Exciting as That Walk!
Obama Was Declared Fit And Fine
View this post on Instagram
It Seems the World Looks Different From up There
View this post on Instagram
Who is the Younger Among the Two?
View this post on Instagram
Here's How We Generally Greet Everyone!
The Most Comfortable Arms Ever!
View this post on Instagram
When Obama Learnt Crawling!
While these are some of the popular pictures of Obama with babies, videos of his reaction on seeing kids dressed during Halloween have always been topic of the discussion on social media. He often bends down to every baby and talks to them, shakes hand with them and generally grabs them in his arms. His brings out the inner child in him around babies and becomes one among them. We wish Barack Obama a great birthday and hope we get to see more pictures of him with babies.