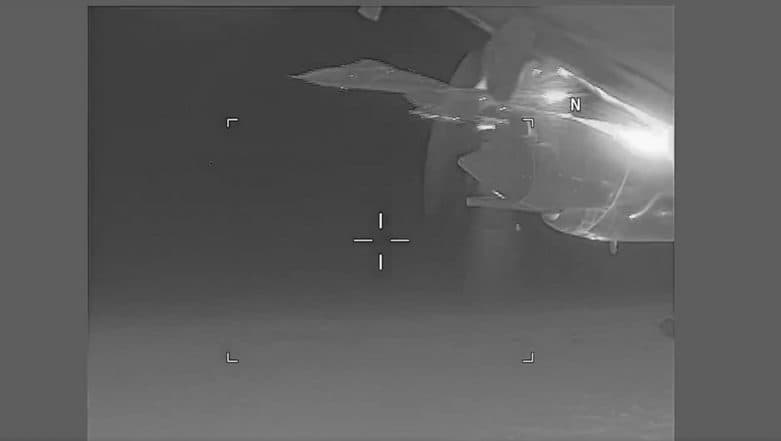 Russian and U.S. aggression against each other in the multiple theatres that they are facing off in resulted in a close call over the Black Sea. In what the US Navy is calling a risky manoeuvre, a Russian Sukhoi fighter jet intercepted a US Navy aircraft multiple times over the Black Sea airspace.
The encounter lasted a total of 25 minutes, in which the Russian SU-27 jet passed directly in front of the US EP-3 aircraft at a high speed, the US defence officials said. The US crew reported turbulence in the aircraft following that initial pass.
The Russian SU-27 then came back and made a second pass near the US plane and applied its afterburner while conducting a banking maneuver, which impacts the plane and is believed to have caused a deep vibration that was experienced by the American crew.
#BREAKING: U.S. EP-3 intercepted in the #BlackSea by Russian SU-27 putting at risk pilots and crew. #USNavy aircraft was operating in accordance with international law and did not provoke this Russian activity. — https://t.co/7xWaf3vmgc pic.twitter.com/eFhQGutZhr

— U.S. Navy (@USNavy) November 5, 2018
"This interaction was determined to be unsafe due to the SU-27 conducting a high speed pass directly in front of the mission aircraft, which put our pilots and crew at risk. The intercepting SU-27 made an additional pass, closing with the EP-3 and applying its afterburner while conducting a banking turn away. The crew of the EP-3 reported turbulence following the first interaction, and vibrations from the second," according to a statement from the US Navy.
The Navy EP-3 was operating out of Souda Bay, Greece, according to Pentagon spokesman Eric Pahon.
The Black Sea air space is a potential minefield as Russia and NATO forces conduct multiple patrols – sea patrols and aerial reconnaissance missions.
A Twitter account for the Russian embassy in the U.S. posted a brief statement about the encounter on Monday saying the fighter jet "followed all necessary safety procedures."
"The Su-27 jet's crew reported identifying the #US EP-3 Aries spy plane and accompanied it, preventing a violation of Russian airspace and followed all necessary safety procedures," the tweet said.
The last reported unsafe intercept of a U.S. Navy aircraft by a Russian jet occurred in January this year when a Russian Su-27 jet flew within five feet of a U.S. Navy EP-3, forcing the Navy plane to fly through its jet wash.