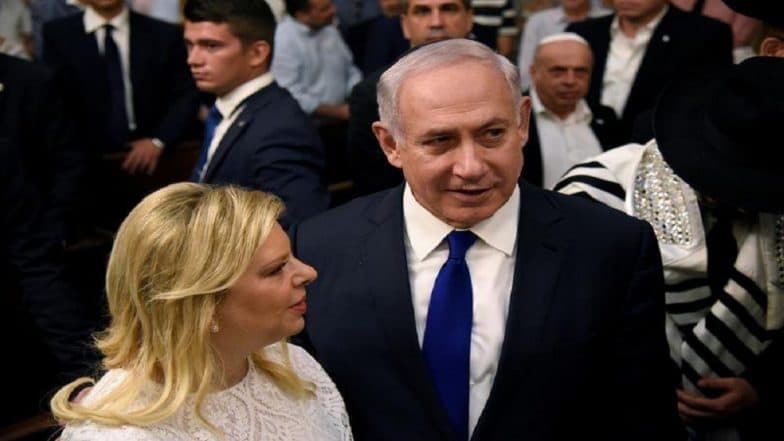 Tel Aviv, September 18: Incumbent Prime Minister of Israel Benjamin Netanyahu on Wednesday cancelled his visit to the United States over post-poll 'political context'. The decision taken by Netanyahu indicates his party abysmal performance in the upcoming national elections for the Israeli Parliament. Israel Election Exit Poll Results 2019: Benny Gantz To Win 32–34 Seats, While Benjamin Netanyahu to Win 31–33 Seats; Avigdor Lieberman May End Up Kingmaker
As per the latest data, the Netanyahu's right-wing Likud came in a close second, with 31 seats in the 120 legislative Assembly. While, the centrist Blue and White have won the largest number of seats -- 32 out of a total of 120. Considering that over 90 percent of the votes have been counted, the trends look quite favourable for the centrist Blue and White party.
Making the situation much complicated for Netanyahu -- contesting for the fifth straight term -- lack of majority for both the national parties have brought the Israeli parliament in a pendulum mode. Political experts opine that even if Netanyahu manages to attain majority by aligning with like-minded parties, he might have to shun away from the top post this time. Israel Elections 2019: Benjamin Netanyahu, Benny Gantz Vote in Tight Israeli Polls.
Among the major concern for Netanyahu is that if Benny Gantz -- the head of Blue and White -- agrees to align with right-wing Likud in the name of national unity, possibilities are much higher that he might ask for Netanyahu to be dumped.
Apart from his political career, Netanyahu's future too depends on the results. If Netanyahu fails to retain the power, he will find it impossible to protect himself from imminent indictments on corruption and bribery charges. Also, his and his wife's freedom depends on the results of the elections. Israel PM Benjamin Netanyahu, Friend of Narendra Modi, Cancels Visit to India For Second Time. 
Earlier too in September's first week, Netanyahu he is calling off his visit to India scheduled for next week. The visit was scheduled just days ahead of the country's elections and was called off 'scheduling constraints'. Netanyahu even dialled his best friend Prime Minister Narendra Modi and informed him about the change in plans.