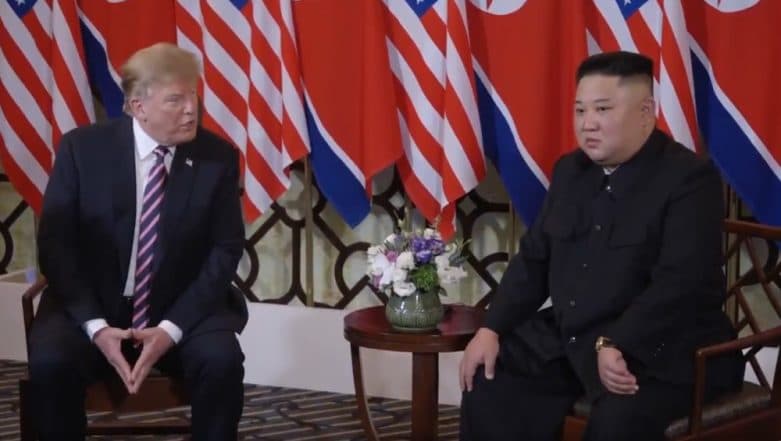 Toronto, March 1: The much touted second summit between US President Donald Trump and North Korea's leader Kim Jong-un ended abruptly as Trump said "Sometimes you have to walk, and this was just one of those times."
Trump conceded that U.S. and North Korean officials did not yet agree on the definition of denuclearisation. He said that the North Korea's leader "has a certain vision and it's not exactly our vision, but it's a lot closer than it was a year ago and I think eventually we'll get there." However, reports said the meeting ended because the Trump Administration wanted an immediate commitment towards complete denuclearisation to even consider lifting the economic sanctions against Pyongyang which led to the breakdown in talks.
North Korea's Foreign Minister Ri Yong Ho held a news conference at the Melia Hotel in Hanoi after the summit to clarify Pyongyang's stand. He said, "We offered a realistic proposal in this meeting," saying they sought partial, not complete, sanctions relief during the talks with Donald trump.
He added, "If the US removes partial sanctions, namely those that hamper the civilian economy and the livelihood of our people in particular, we will permanently and completely dismantle all the nuclear material production facilities in the Yongbyon area, including plutonium and uranium in the presence of US experts and by the joint work of technicians from both countries."
The foreign minister said that decommissioning of the Yongbyon nuclear research centre, under the watch of US observers "Was the biggest denuclearisation measure we could take at the present stage when taking into consideration the current level of confidence between the DPRK [North Korea] and the United States," he said.
This was in contrast to what Trump said that North Korea wanted all of the sanctions lifted in exchange for denuclearisation.
The North Korea foreign minister also seemed to end his statement with a firm message for the U.S. He added that it might be hard to see an opportunity such as the Hanoi summit again. "Our principal stand will remain invariable and our proposals will never change, even if the United States proposes negotiations again in the future," Ri told reporters.