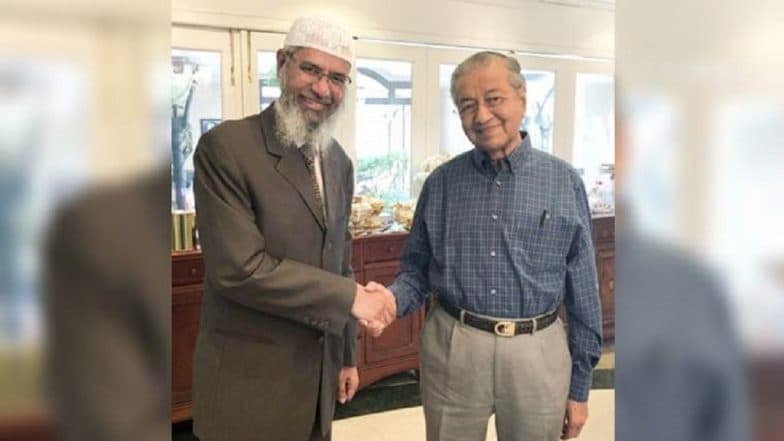 Mumbai, August 20: Controversial Islamic preacher Zakir Naik on Tuesday issued apology for his comments after the popular televengalist faced flak for making alleged "racist" remarks on the ethnic minoroties in Malaysia, including Hindus and the Chinese living in Malaysia at an event on August 8. The apology by Naik comes after Malaysia imposed a ban on him from delievering sermons and addressing crowds. Zakir Naik Banned from Delivering Public Speeches in Malaysia Post 'Racist Remarks' Against Hindus, Permanent Resident Status at Stake Too.
Zakir Naik also said that his comments were fabricated and that his detractors took his remarks out of context, creating unnecessary controversy.
Naik on Monday has demanded apology from four Malysian ministers. Naik said that the comments made against him were "defamatory" in nature. The Mumbai-born preacher has demanded that the ministers withdraw their statements.
Naik named Penang region Chief Minister II P. Ramasamy, Member of Parliament from Klang- Charles Santiago and two others, reported New Straits Times, Malaysia's oldest newspaper.
During a comment made at an event in Kota Baru, Naik had compared the situation of Hindus living in Malaysia with that of Muslims living in India and said that Hindus in Malaysia enjoyed more freedom and rights than the Muslims in India.
He also said that since Chinese were the first to enter Malaysia, they should also be the first to leave the country. The Malaysian authorities bannned the preacher from addressing any gathering after his comments created a furore.
Naik has been living in Malaysia for the past three years, after his organisation 'The Islamic Research Foundation' (IRF) was declared illegal by the Union Home Ministry in India. The National Investigation Agency (NIA) in India in 2017 filed a charge sheet in a special court in Mumbai against Zakir Naik for allegedly inciting youth to take up terror activities, giving hate speeches and promoting enmity between communities.