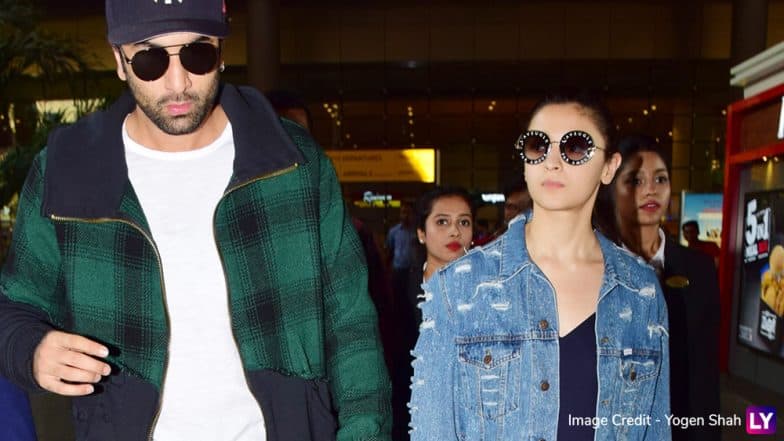 "The hottest love story, sometimes has the coldest end!" - Sometimes what they say is true. Things haven't been going very well between Alia Bhatt and Ranbir Kapoor since a couple of months and even though they haven't said anything on record, their gestures do all the talking. Now, last night at the screening of Gully Boy when Ranbir attended the event since it was his girlfriend's film, everything looked seemingly fine until they got into a car together. Alia Bhatt's Statement on Marriage Rumours With Ranbir Kapoor is Proof That Their Relationship Has Hit a Rocky Patch.
In this video shared by one of the photographers, Alia and Ranbir are seen sitting in the car together where she gives him a dry smile while he is seen clearly instructing her to do something. While it is still unclear where these are two different clips joined together, because that's what it looks like, or maybe the actor was miffed with his girlfriend? Well, it could sure be just a lover's tiff which every couple has then it's actually not something to be bothered about. However, in their case, since things haven't been going too well with them, we just hope this doesn't makes things worse for the two of them. Umang 2019: Alia Bhatt and Ranbir Kapoor Arrive Together Amid Stories of Them Being Upset With Each Other.
Check out this video of Alia and Ranbir here:
So, tell us, is it just us or do you also think there was something wrong between the lovers? well, all that we can say is it is Valentine's Day and with love being in the air, we think they should just resolve their fight soon!
Ranbir and Alia, who started dating on the sets of Brahmastra last year were rumoured to be getting married this year. However, she subtly denied the rumours recently when she said, "I think people should now take a break. We have had two beautiful weddings last year. I think we can chill now, watch movies, work in movies, and rest can be seen later." Well, looks fans will have to wait for a little longer to see them get hitched.