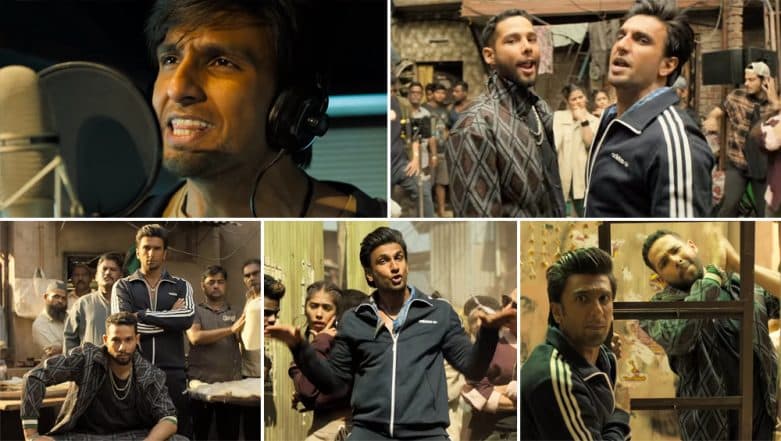 With the kind of response the Gully Boy trailer and the first song from the movie has got so far, it's quite evident that the audience is loving every bit of the rapper in Ranveer Singh. While we still can't get over the epic rap battle that Ranveer has with his counterpart in the first song Apna Time Aaega, the makers have now blessed our feeds with another song from Gully Boy, titled Mere Gully Mein. And let us tell you, it's even more addictive! The song features Ranveer indulging in a classic, epic rap battle with rapper Naezy and we just don't want them to stop! Their swag and style are unmissable and with Ranveer being so good at it, feels like he was born to rap! A major part of the film has been shot in the slums of Mumbai and Mere Gully Mein gives a vivid insight of the nooks and corners and the 'gullies' there. Here Are The Real Gully Boy(s) Divine And Naezy Who Inspired Ranveer Singh - Alia Bhatt's Gully Boy.
Check out the song Mere Gully Mein starring Ranveer Singh and Rapper Naezy from Gully Boy here-
How cool is this! Aren't you hooked to it already? Dunno about you, but we definitely are! For those who don't know, Naezy and Divine came up with this rap back in 2015 and it has been remade for Gully Boy.  Ranveer Singh Is Listening to Apna Time Aayega from Gully Boy on Loop Just Like Us – Watch Video.
Check out the link to the original video here-
Ranveer shared the super cool poster of Mere Gully Mein just yesterday, announcing the release of the track. From what we know, they will be launching the entire music album on January 24 and it's going to be a grand event. In that case, how many of you would love to see Alia and Ranveer engage in a rap battle? We know we would! Meanwhile, what is your take on the newly released number? Comment below and tell us!