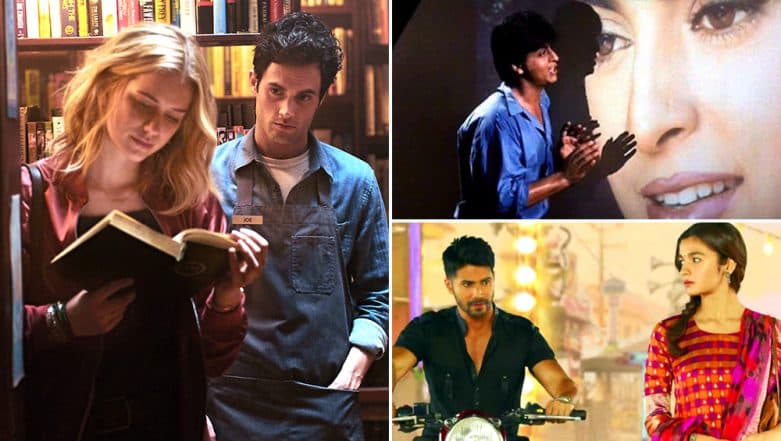 Netflix series YOU has been quite a rage on the internet lately. The stalker drama that stars Penn Badgley as Joe and Elizabeth Lail as Beck became popular on the streaming platform in just a week. The ten-series episode directed by Greg Berlanti and Sera Gamble became the common topic to talk amid all the Netflix lovers. The story revolves around a bookstore manager who falls in love and gets obsessed with his customer. The story became an instant hit with girls crushing hard over Penn who actually plays a stalker-loverboy. He even raised a concern about this on social media and warned them that he was a 'stalker' and it is not cool to crush over such human beings, however charming he is. But, Bollywood fans have been the victim of this norm from years even before  YOU hit the screens.
Romanticising a stalker who turns into a die-hard romantic kinda hero is something the fans of Bollywood movies have guiltily done for many years. Stalking is many times generalized and given the meaning of 'dedication' and 'pure love' by the makers making the fans think that it is completely normal if someone stalks and creeps the heck of your life. Although, YOU also focused on the hazards of social media websites and fatal use of technology, the makers in tinsel town had their own imaginative ways of justifying the stalking act. These are some of the movies, who should have termed the lead stars as STALKERS but ended up giving some sort of benefit of the doubt in the end.
Shah Rukh Khan's Darr
Okay, we all know that SRK's dimpled smile won the audience here. All these years, the fans also kept on mouthing 'KKKK...Kiran' dialogue like the back of the hand. But then, the song "Tu Haa Kar Ya Naa Kar, Tu Hai Meri Kiran," itself is a huge question mark on the values of consent and will. The story had King Khan's character dead in the end but yet fans celebrate his role than that of Sunny Deol's till date.
Dhanush's Raanjhanaa
So, this Brahmin guy (Dhanush) falls in love with a Muslim girl (Sonam Kapoor). They have a brief romantic track but then the girl moves to another city only to fall in love with her college friend (Abhay Deol) and they both decide to get married. However, the stalker loverboy of Sonam gets obsessed with her to the extent that he breaks her marriage and ends up stalking her to death. However, this was easily perceived as the true love story of a guy who gave up his love and life for the girl. Hello?
Varun Dhawan's Badrinath Ki Dulhania
Varun who plays Badri crushes over Vaidehi played by Alia Bhatt. He stalks her to her college, to her residence and also her workplace to convince her how he is a right groom for her. He even manipulates her to get married to him. When Vaidehi runs away from her own wedding, he even chases her abroad.
Salman Khan's Tere Naam
So, this a clear case of stalking and making it look like the undying love. Radhe Mohan (Salman Khan) expresses feelings but faces rejection from Nirjara (Bhumika Chawla). However, to convince her that he has a golden heart, he kidnaps her and uses violence after which she gets convinced. He, later on, ends up getting into a mental asylum and makers portray him as the ultimate 'bechara' in the film.
Akshay Kumar's Toilet: Ek Prem Katha
The hero of the film starts wooing the actress (Bhumi Pednekar) saying "has mat pagli, pyaar ho jayega." However, when she refuses to
react to his advances, he keeps on following and stalking her to her college and her residence as well. Eventually, she falls in love with him after this process. How is this even justified?
We see how the whole process is normalized under the name of romantic tales. But, YOU showed us the stark difference between love and obsession, finally. For God's sake, fans too must take this lesson and understand the basic difference. Bollywood makers too can learn a thing or two from it, don't you think so?