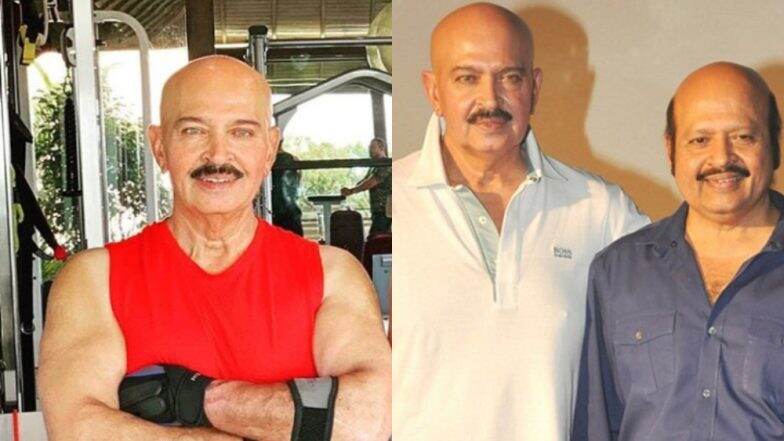 Hrithik Roshan revealed to the world that his father, filmmaker Rakesh Roshan, is suffering from first stage skin cancer of the throat. He also confirmed that Rakesh was due to go into surgery later that day. And fans began to pray for Rakesh's health and the family. Today, Rakesh's brother Rajesh has given us an update on his health. "He is better now and recovering well. We were all very tense about the surgery and the entire family was in the hospital with him. God willing, he will be up in the next three days and should be discharged from the hospital," Rajesh told Mumbai Mirror.
That is good news. We wish the actor-filmmaker a speedy recovery and hope to hear from him soon. Rakesh Roshan Diagnosed with Throat Cancer Reveals Hrithik Roshan; Know What is Squamous Cell Carcinoma of the Throat.
Yesterday, Hrithik took to his Instagram page and wrote, " Asked my dad for a picture this morning. Knew he wouldn't miss gym on surgery day. He is probably the strongest man I know. Got diagnosed with early-stage squamous cell carcinoma of the throat a few weeks ago, but he is in full spirits today as he proceeds to battle it. As a family, we are fortunate and blessed to have a leader like him. .Love you Dad."
Post this update, wishes and prayers started pouring in from all corners. Even PM Narendra Modi tweeted out to the family and called Rakesh 'a fighter'.
Rakesh Roshan is 69 years old. On the work front, his last production venture, Kaabil, released in 2016 and was a box office success. He was currently working on the sequel of hit superhero film Krrish 3.