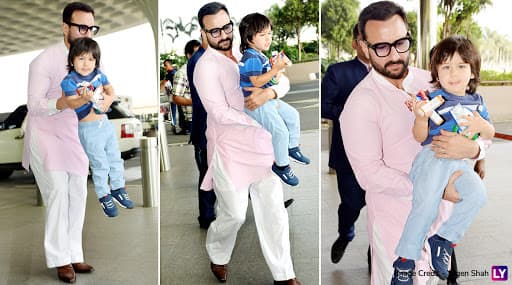 Taimur, the nation's obsession, has become a bit distant from his paparazzi friends. He at times snaps at them and doesn't even wave at them like earlier. But then that happens. As a kid grows, some things start bothering them. Even Kareena said recently that he goes all no photos these days. However, it is always nice to look at him every once in a while as he is one of the cutest kids of B-town. Recently, we spotted him at the airport with his father Saif Ali Khan. While he seemed a bit weird towards papz, it's the things he was carrying which got our attention. Taimur Ali Khan Yells 'Excuse Me!' As Paparazzi Blocks His Way (Watch Video)
We tried our best to decipher what exactly was Taimur holding. So we could figure out two boxes of Orbit chewing gum. Rest could be one of those soap or lotion samples at hotel lounges. We are just guessing here, so don't get so offended.
In an interview with Pinkvilla, Kareena Kapoor Khan explained why Taimur has become averse to pictures even at family gatherings. "He's constantly being watched and he realizes he's being clicked now. This culture has been there for a while now and nobody is asking anyone not to do their job. But we are just asking for a little space because they are children and we want them to grow up in an environment that is safe and secure, where they can be the way they want to be."