Kareena Kapoor and Saif Ali Khan have reportedly put a ban on Taimur Ali Khan's appearances and we seem to be missing him already! We got our hands on this pic of baby Tim with his mommy, which was taken only a couple of days back. He looks absolutely adorable like always in this newly released pic wearing a red tee and blue jeans. If the rumours of Bebo and Saif deciding to keep Taimur away from the media for a while are actually true, this could be the last pic of the munchkin that we're gonna see in a very long time. No More 'Hi' 'Bye' From Taimur Ali Khan As Kareena Kapoor Khan and Saif Ali Khan Decide To Ban Paparazzi?
As per the reports in Filmfare, the star parents of Taimur do not want him to notice of pattern of the paparazzi following and clicking him daily. They also do not want him to get affected to by them. Hence, they have requested the media to stop standing outside the house. Cutest Thing About Taimur Is the Way He Says 'Aadaab' – Watch Saif Ali Khan Imitate His Chote Nawab.
Earlier, the Veere Di Wedding actress was quoted saying by HT, "I feel it's getting used to his name being called out and not particularly the cameras around. I don't think he can make out that he's being clicked. He's still too small for that.Honestly, I've never held back anything. He's practically all over the place. But he's just 17 months old, so, let him grow up and have his life. I want him to have a normal upbringing and I totally understand that it's tough to have it in today's time but it is okay. I am letting him be. I can't stop him from anything and I will not stop him from having a normal life at all." Taimur Mania Intensifies! Shops Start Selling Dolls That Look Like Baby Tim - See EXCLUSIVE Pic.
Here, check out Tim's latest pic here-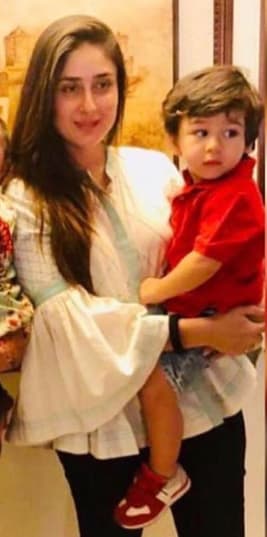 We know how the paparazzi goes bonkers every time Taimur makes an appearance and frankly speaking, it won't be right for him to grow up in an atmosphere like this where he is in the limelight constantly. So, if Saifeena have decided to keep him away from the media glare for a while, we as the press should respect that and give them the privacy.