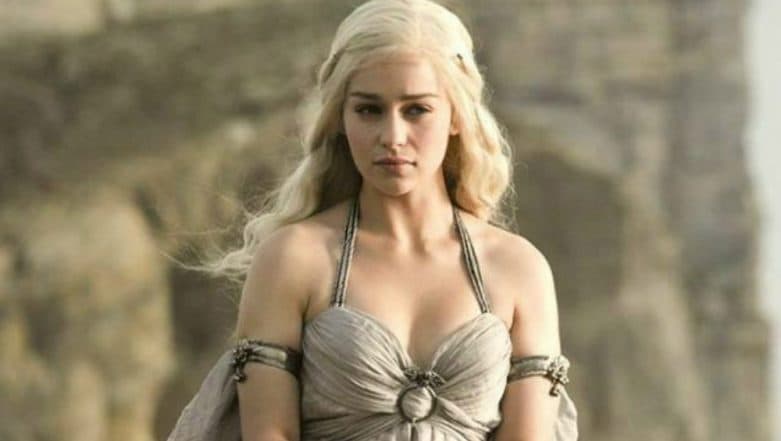 The anticipation for the eight season of Game of Thrones is touching skies. The people across the quarters cannot hold back their excitement and a whirlpool of buzz has been created on the social media cloud. From multiple fan theories to the excruciating suspense, the show has its zillions of fans wrapped around it. However, this is a two-way street, and as much as the fans are rooting for the show, the cast members are also putting in everything for it to be a successful one. And we say this because according to the reports, it took a toll on the star of the show Emilia Clarke while filming the last few episodes. Game of Thrones Season 8: Jon Snow, Daenerys Targaryen and Cersei Lannister to Die? Peter Dinklage's Instagram Post is Causing Fans to Believe So!
In a conversation with The New Yorker, Emilia revealed that after the success of the first season of GOT, the health scares began and she survived two life-threatening aneurysms. "Just when all my childhood dreams seemed to have come true, I nearly lost my mind and then my life. I've never told this story publicly, but now it's time" the Mother of Dragons admitted.
Emilia added, "I was terrified. Terrified of the attention, terrified of a business I barely understood, terrified of trying to make good on the faith that the creators of Thrones had put in me. I felt, in every way, exposed." The actor also confirmed that it all started with Game of Throne, because prior to it, she was a healthy person. She said, "Sometimes I got a little light-headed, because I often had low blood pressure and a low heart rate. Once in a while, I'd get dizzy and pass out." "When I was fourteen, I had a migraine that kept me in bed for a couple of days, and in drama school I'd collapse once in a while. But it all seemed manageable, part of the stress of being an actor and of life in general. Now I think that I might have been experiencing warning signs of what was to come," talked Emilia. Game Of Thrones Season 8: Longest Episode of the Series Will Premiere On the Opening Weekend Of Avengers: Endgame.
As per the reports in The New Yorker, when Emilia was preparing to exercise with a trainer in February 2011, she first noticed that something was wrong after forcing herself through a number of exercises with a bad headache. "I immediately felt as though an elastic band were squeezing my brain. I tried to ignore the pain and push through it, but I just couldn't. Somehow, almost crawling, I made it to the locker room. I reached the toilet, sank to my knees, and proceeded to be violently, voluminously ill. Meanwhile, the pain — shooting, stabbing, constricting pain — was getting worse. At some level, I knew what was happening: my brain was damaged."
"I heard a woman's voice coming from the next stall, asking me if I was OK. No, I wasn't. She came to help me and maneuvered me onto my side, in the recovery position. Then everything became, at once, noisy and blurry," the actor recalled. "I remember the sound of a siren, an ambulance; I heard new voices, someone saying that my pulse was weak. I was throwing up bile. Someone found my phone and called my parents, who live in Oxfordshire, and they were told to meet me at the emergency room."
Emilia was diagnosed with a subarachnoid haemorrhage which is a life-threatening type of stroke, caused by bleeding into the space surrounding the braid. She added, "I'd had an aneurysm, an arterial rupture." After the operation, the actor was in excruciating pain and after two weeks in the ICU, a nurse gave her a series of cognitive exercises that tested her on facts, including her name. "Nonsense words tumbled out of my mouth, and I went into a blind panic. I'd never experienced fear like that — a sense of doom closing in," she wrote. "I could see my life ahead, and it wasn't worth living. I am an actor; I need to remember my lines. Now I couldn't recall my name."
Soon after, Emilia understood that she was suffering from aphasia, the inability to understand speech and soon after, she wanted to "pull the plug" asking the staff to let her die- "my entire dream of what my life would be — centered on language, on communication. Without that, I was lost."
Even after coming back to her normal life, Emilia was informed that she had a small aneurysm that could pop any time. In 2013, when the actor went to get a brain scan, she realised that the aneurysm had doubled in size and the doctor informed her that she had to undergo another operation. Emilia wrote that the recovery from her second surgery was even more painful and she spent another month in the hospital where she had, so to say, lost all hopes. But post her second surgery, Emilia revealed that she had healed and "I am now at a hundred percent." Game of Thrones Recap: 7 Best Battles, Ranked, in the HBO Show That the Finale Fight Between Westeros and the WhiteWalkers Should Surpass - Watch Videos
Then, Clarke announced the launch of SameYou- a charity that aims to provide treatment for people recovering from strokes and brain injuries. "There is something gratifying, and beyond lucky, about coming to the end of Thrones."
Well, all we hope is for the Targaryen queen to be perfectly fit and battle-ready for the show and in real life alike. The final battle is yet to begin and we cannot afford the Mother of Dragons to be weak, as many stories will be unfurled soon.