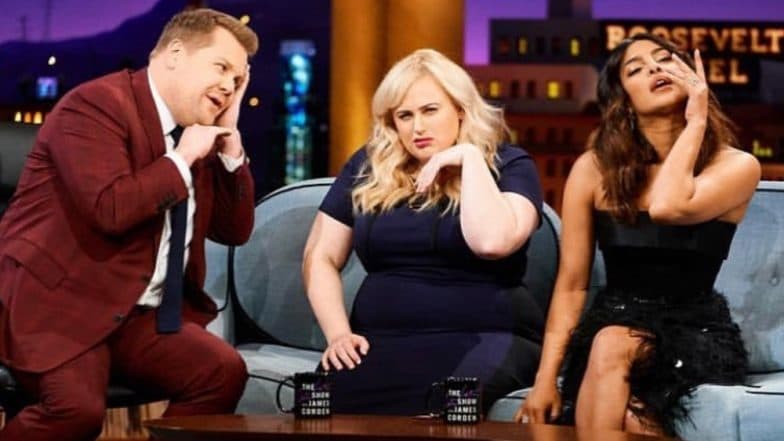 Priyanka Chopra and Rebel Wilson clearly had a fun sesh with The Late Late Show host James Corden. Both the actresses who are gearing up for the release of their upcoming rom-com, Isn't It Romantic? and have left no stones unturned to promote their film. They have presented their film in various platforms including shows like The Ellen DeGeneres Show, Tonight Show Starring Jimmy Fallon, Jimmy Kimmel Live and we just found out that they also attend the Late Late Show with James Corden.
This is not the first time both the actresses have had a chat with the Late Late Show host, James Corden. And from the looks of all the pictures, it is evident that they did have a fun time. Starting from drinking martinis to schooling Corden how to nail the hot-model-pose, Priyanka and Rebel definitely entertained the host and the audience. You can check out their pictures below from the show.
Priyanka, Rebel and James doing the hot-model-pose
View this post on Instagram
Priyanka with a martini glass in her hand
A cute selfie at the end of the chat sesh
Wilson, who is also a producer of the film, expressed the perks of being so involved in the project while some quotes around female empowerment did find its way in the conversation. Calling her character in the film "cynical and closed off to love," Rebel added how her experience as a producer on the project gave her the power to cast great people like Priyanka. On the same, the desi girl added, "She was on set all the time, involved in everything. It's awesome to see a woman take charge of her own destiny."
The film opened in Northern America to lukewarm responses. While the rom-com might not have been all that great, Rebel's believable character did strike a chord of familiarity among the critics. The film will be aired on Netflix on February 28.