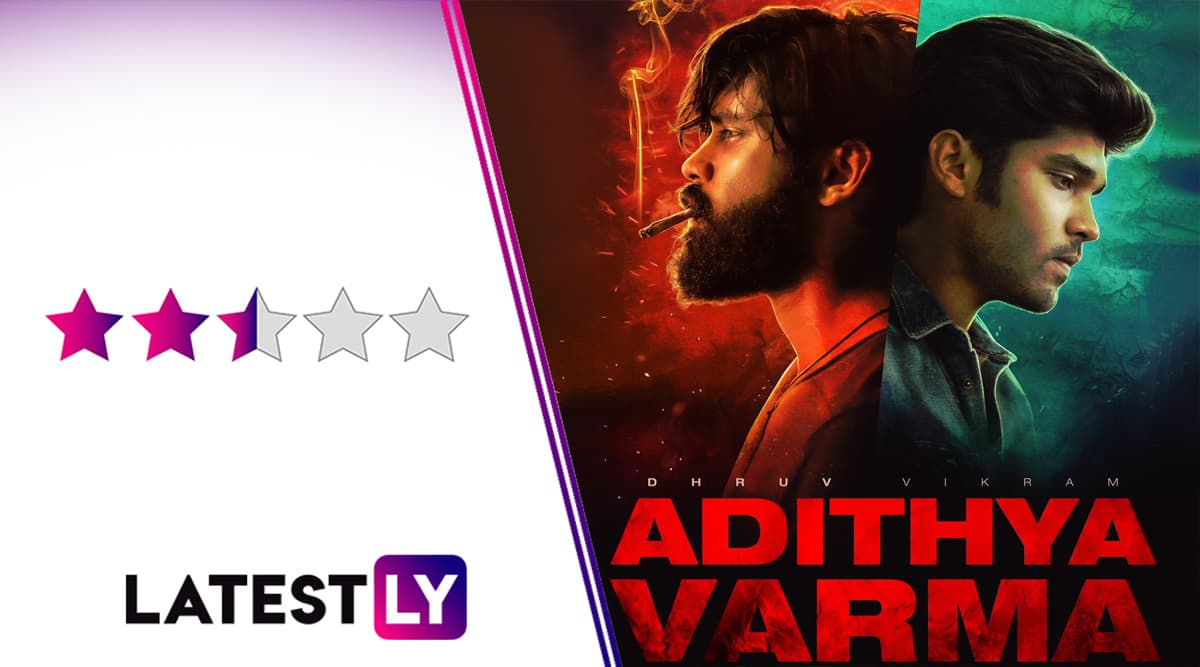 Sandeep Vanga's Arjun Reddy did not need a Bollywood remake with Shahid Kapoor. It also didn't need aa Tamil remake titled Adithya Varma. However, Chiyaan Vikram stated in an interview that he couldn't have asked for a better launchpad for his son, Dhruv Vikram. To be quite fair though, Vikram was right about Adithya Varma being the ideal film for debutant Dhruv. Needless to say, the film did rope in Vanga's AD, Gireesaaya to helm the Tamil version of the project. But did anything change in the Tamil rendition? Did the maker alter a few scenes or make it different from the other two films? We'll find out soon. Adithya Varma Quick Movie Review: Dhruv Vikram Makes For An Apt Choice In The Tamil Remake of Arjun Reddy!
The film opens with Adithya Varma's grandmother (played by Leela Samson) talking about him with utmost pride as one of the most rebellious, possessive and abusive young man who simply cannot take no for an answer. Debates concerning the protagonist's character has already been raised several times in the past, especially after Kabir Singh. We'll discuss this later though, right now let's talk more about the plot. Don't fret, the script hasn't been changed at all. Perhaps some subtleties here and there are changed but none so drastic that they would be noticeable.
Back to the movie, Adithya Varma is uncivil with medical prowess that makes him a formidable force. People love him for his intelligence but despise him for his personality uncouth demeanour. His eyes then fixate upon Meera (Banita Sandhu), a meek and demure junior who has captivated his heart. Adithya immediately proclaims that she is his and he will protect her at all cost. Of course, she has no say throughout all this drama. Eventually, she too falls for them and they start their love story. It is shortlived though as a small hurdle and big misunderstanding separate them. Dhruv's Adithya Varma To Clash With The Mighty Baahubali The Beginning On November 22 - Deets Inside
Adithya Varma might be an extremely disturbing film, just as much as Arjun Reddy and Kabir Singh, however, the protagonists of the film have risen to the challenge and done justice to the character. Flawed as it may be, even Dhruv Vikram has brought about a mindblowing act to perfect the role of the uncouth genius in Adithya Varma. In fact, as you watch the film, you won't realise that it is his first project because of the finesse in his act. Clearly, Dhruv has lived up to the expectations of fans and audience who adore his father, Chiyaan Vikram. I would say that Dhruv is the only redeeming factor in this project that lacks in many places.
Adithya Varma trailer -
While Dhruv is phenomenal, as mentioned several times, the same cannot be said about Banita Sandhu. Sure, the women hardly had an impacting role to play in this franchise anyway. However, Banita's constant ambiguous expressions contribute to nothing. There are scenes that require some emotions from her but she has a constant look of disinterest that underwhelms the scene altogether. The supporting cast of the movie do their roles to perfection and add more nuances to Dhruv's, who is the genius prodigy here.
Gireesaaya, who previously assisted Sandeep Vanga in the previous two ventures, has clearly memorised the film's story so well that he has left no room to variations. Despite some of the critical receptions towards the plot of the film or specific scenes, the filmmaker does not try to make changes. There is scope but Gireesaaya does not wish to jump the gun and take ownership of alterations to the plot. Anyway, his direction is very mediocre. As is the editing of the film. The music, however, is a win for the film.
Yays
- Dhruv Vikram is phenomenal and has a bright future
- The music compositions by Radhan is perfectly placed
- The supporting leads such as Anbu Thasan, Priya Anand, etc are good
Nays
- There is literally nothing new to contribute from this film
- Banita Sandhu's performance is super underwhelming
- The editing is messy
- The plot is still problematic
Final Word
Can filmmakers please stop recreating the same version of Arjun Reddy? Requesting them to take a break from making films like Adithya Varma! Perhaps the only redeeming factor about the film is Dhruv Vikram's performance. He single-handedly manages to grasp the audience's attention and sustain it.
This is his debut film and for a debutant, he sure has proven his mettle. You can see his potential in the film as he plays variations in a character we're tired of. Not that I would recommend watching the film but if you do wish to put yourself through it, go for Dhruv Vikram because he is a revelation!