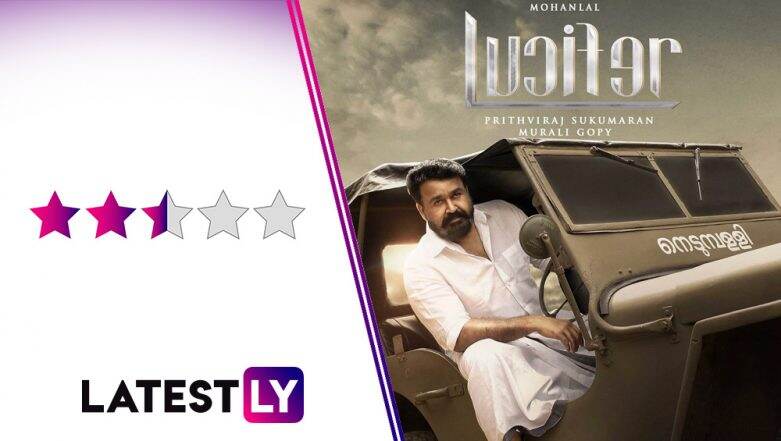 Have you grown up watching the political thrillers, made by Shaji Kailas and co, that Malayalam cinema in the '90s was famous for? Then Prithviraj Sukumaran's directorial debut, Lucifer, written by actor-scenarist Murali Gopy, could be a homage to those movies. And then, it is also a tribute to the mass roles played by its lead star, the effervescent Mohanlal. With an exciting ensemble cast that includes Manju Warrier, Tovino Thomas, Vivek Oberoi (making his Mollywood debut), Indrajith Sukumaran, and even Prithvi himself, there is a lot of hype riding on Lucifer. If you rein in your expectations, you will be treated to a decent mass political thriller. Especially if you are a Lalettan fan. Lucifer Trailer: Mohanlal Steals The Show With His Intense Gaze and Power-Packed Dialogue (Watch Video).
Lucifer begins with the unexpected demise of IUF party head and Kerala Chief Minister PK Ramdas aka PKR (Sachin Khedekar). His daughter Priya (Manju Warrier) is distraught, his younger son Jathin (Tovino Thomas) is unreachable in the States, while his son-in-law Bobby (Vivek Oberoi) is making his own dastardly plans. The state is in a political turmoil as to who would succeed PKR.
A blogger Govardhan (Indrajith Sukumaran) lets the audience in the know of who are the main players involved in this Game of Thrones, but he warns of one man, who he refers to as the devil's incarnate, Lucifer. That's Stephen Nedumpally (Mohanlal), an IUF party bigwig who was PKR's foster son, his confidante and is a kingpin himself, though he is hated by Priya. As Bobby tries to bring the party under his control from the funding he gets from a drug operation, Stephen stands between him and his nefarious ambitions.
The last time I was so excited to watch a South movie as Lucifer recently was Rajinikanth's Petta, mostly due to the ensemble cast and the director. Curiously Lucifer has the same attractions as Petta and also the same failings. Imagine The Godfather where Don Corleone is dead, Michael Corleone is his foster son and The Turk is his son-in-law. That's how I can surmise the conflict point of Lucifer.
Prithviraj Sukumaran has made a stylish debut as a director with Lucifer. He looks to have a good grasp on film-making techniques, especially with the framing of the shots and the presentation of the action scenes. Special mention must be given to how he has handled the crowd scenes at the beginning of the movie. All in all, a pretty confident debut as a director for the dashing actor and I am looking forward to seeing more of his efforts as a film-maker in future.
Then there is Mohanlal who fills even a mundane frame with that larger-than-life screen presence. Lucifer: Vivek Oberoi Makes His Malayalam Debut in This Mohanlal Film Directed By Prithviraj Sukumaran.
However, the young director and his charming lead star is often let down by a very average narrative that is slow-paced, stretched and lacks originality. Writer Murali Gopy, surely, brings his knack of inserting commentary of current political affairs in the movie. Lucifer's screenplay is infused with digs at corporatisation of politics, illegal funding of party, dynasty politics and the corruption of media. There are a few well-placed mass moments and punch-dialogues that will induce cheers in the theatres.
That said, the whole storyline feels like a homage to Mohanlal's previous movies which includes Rajavinte Makan, Irupatham Nootandu, Sagar Alias Jacky, not to mention, even The Godfather (which has also inspired Mohanlal's Naduvazhikal). Throw in Game of Thrones and surprisingly, Rajamanickyam, and you somewhat get what Lucifer is all about.
Look, there is nothing wrong in presenting old wine in a new bottle, but there should be something fresh added as the ingredient. Lucifer's narrative often falls on the cliched pattern of having an unbeatable hero taking down that cloyingly annoying villain with no defining characteristic other than being evil, smirk and all, in an effortless manner. Things are often stretched out, especially the shootout in the climax that is interspersed with an unnecessary item song. Really, Prithvi, was that required? There is hardly any doubt that Lucifer needed some serious trimming, especially in the first half.
Watch the Trailer of Lucifer below:
The Performances
If the script is a downer, Lucifer is elevated by good performances from the entire ensemble. Sure, because of the large number of characters, not every actor gets ample space but they do justice to their performance in whatever screentime they get.
But if you are in for Lucifer, it is for this man - Mohanlal. Lalettan spells MASS right from his first appearance in the movie, and the superstar carries out his larger-than-life image throughout the proceedings. This isn't a really challenging role for the actor, but the superstar delivers exactly what is expected is a role like this. Manju Warrier's eyes express the right amount of anguish, though I wish this super-actress had more to play in this political thriller other than being a betrayed wife and pained mother. If you are really going for Mallu GoT, why not make her something of Cersei? I am sure Manju would have pulled it off easily.
Vivek Oberoi carries forward his Inside Edge act in here. He has quite a plump role and he is convincing as the sleazy villain. Tovino Thomas' role may not be big, but he scores a lot of applause for his election rally speech scene. Prithviraj plays a mercenary head, who is in cahoots with Stephen, and he is terrific in the action sequences. His role, however, feels just like his film - a fanboy look at a superstar's mass persona. Indrajith Sukumaran is effective as the truth-seeking blogger. The rest of the cast, including Saikumar, Baiju, Kalabhavan Shajohn, Sachin Khedekar, Saniya Iyappan, Nyla Usha, Fazil, Nandu are good in their roles.
Yay!
- Mohanlal
- The Cast
- Prithviraj's Decent Debut
- Some Mass Moments
Nay!
- Cliched Screenplay
- Female Characters Deserve better
- Lack of Originality
- Editing
Final Thoughts
There is no doubt that Lucifer is a stylishly shot mass entertainer aimed at Mohanlal fans, much better than his last misfire, Odiyan. Prithviraj has made a decent debut as a director. If only, he had a tighter grasp on the screenplay and editing, then Lucifer would have been a film worth being referenced for ages. Watch Lucifer for Lalettan, Prithviraj and the terrific cast, but keep your expectations controlled, unlike the film's runtime!