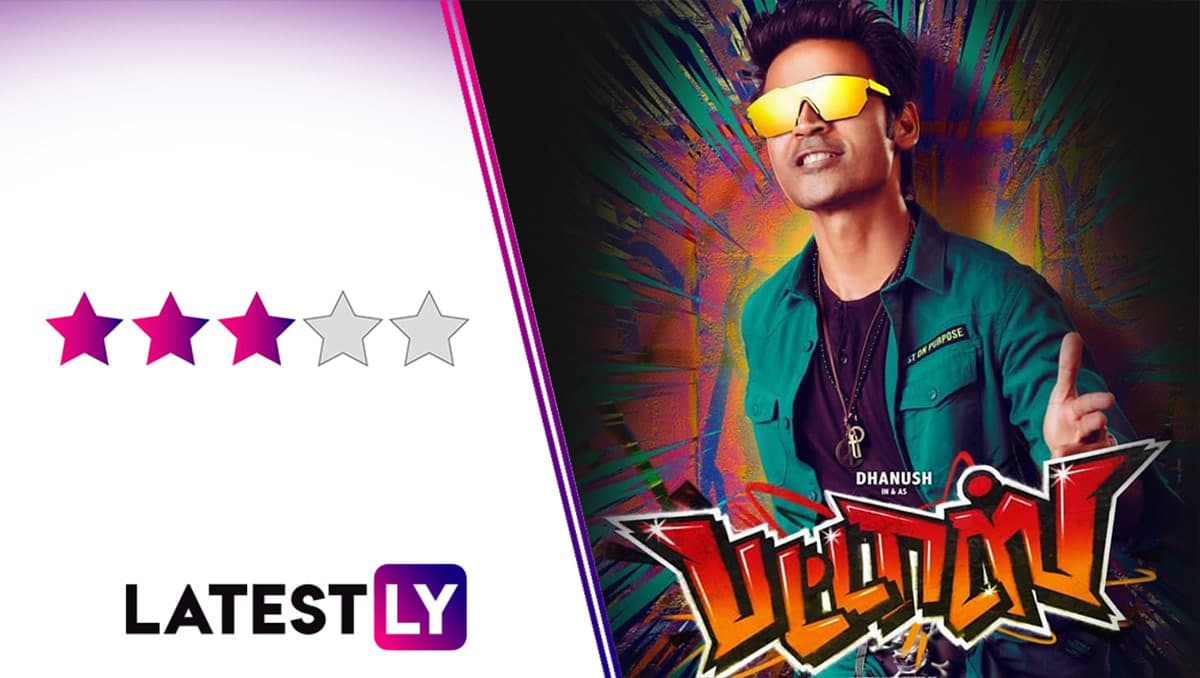 Pattas Movie Review: Pongal/Makar Sankranti is one of the biggest festive slots when it comes to South releases and barely a week after Rajinikanth's big blockbuster film Darbar, his son-in-law, Dhanush is here with his big release Pattas. On a Pongal morning, there's nothing more exciting than to catch a packed theatre brimming with fans of Dhanush who break into a jig when "Chill Bro" plays and start whistling at his entry. Yes, he's a celebrated hero and he knows it well and hence makes sure to drop a full-on masala entertainer right on the festival day. Pattas on Pongal 2020! Dhanush Fans Have a Double Celebration As They Throng the Theatres FDFS!
Pattas aka Sakthi is a small-time thief who much like his name is a firecracker in all senses. In his locality, Pattas is constantly competing with Sadhna (Mehreeen Pirzada) who flaunts her 70k salary and has the whole neighbourhood at her feet. In an attempt to pull down her pride, Pattas and his mate a brilliantly scene-stealing Sathish rob her workplace, an MMA academy which much to his dismay later belongs to his father's rival Nilan (Naveen Chandra). Pattas' breezy first half is full of comedy with Dhanush's character yet to learn all about his legacy and who his father is. The film doubles as an entertainer with a message as it mainly throws light on Adimurai, a martial art form older than Kalari and the basis on which other popular sports such as Kung Fu, Judo and Karate were developed. Dhanush gets to play the dual roles of father-son and it's the flashback portions that show him practising Adimurai.
Pre-interval, the film remains light and within the first twenty minutes, we also get see Dhanush's electrifying dance in "Chill Bro". I thoroughly enjoyed this energetic number and full points to Mervin Solomon for composing a vibrant soundtrack. The second half is all about the flashback and also about the origins of Adimurai, it is here that we are introduced to Nassar's character who is Dhiraviyam Perumal (Dhanush), Pattas' father's teacher. Sneha plays his love interest in the flashback portions and in the present-day scenes is Pattas aka Sakthi's mother. She's a crucial character for both storylines and does a damn good job. I'll even say her chemistry with Dhanush is far better than Mehreen.
Even though the story is highly predictable, the film manages to keep you hooked as it changes gears from comedy to romance and eventually an action/revenge drama. There's no doubt that crisper editing could have helped it to keep its run time a little lesser had they chucked a few seconds of all the panning shots and slow-mos from literally every action scene. The bits of Adimurai history could also have been presented in a better manner to pique our interests but we are expected rely on Dhanush's heavyweight dialogues about staying true to your soil and not forgetting our roots even as we embrace modern lifestyle. The second half is predominantly just lengthy action sequences that eventually wrap up the film without an impactful climax.
Director Durai Senthilkumar plays to Dhanush's strengths in the flashback portions where he gets into a mature character. The Adimurai academy portions are shot well, especially the one where Nassar asks Dhanush's character to recite a Tamil verse related to the Adimurai technique. Pattas Motion Poster: Dhanush Returns with a Mass Entertainer and it Can't Get Better than This (Watch Video).
Performances:
After delivering a superlative performance in an intense drama like Asuran,  Dhanush returns to his mass image in a film that celebrates his well-known talents. The actor is charming in the breezy portions but particularly aces the flashback role as the Adimurai expert. On one hand, he's the Captain America T-shirt wearing cool dude dancing on chill bro and the other he's sporting a Veshti and dancing with an equal brilliance but with a starkly different body language. The maturity he shows as Dhiraviyam Perumal looks as easily performed as his rowdy Pattas.
If Dhanush is the firecracker in this film, Sneha is the matchstick to it. She equally stuns in both timelines and pulls off the action scenes like a total boss. I love how her character is confident all through, be it proposing to her love or being a mother who doesn't bat an eyelid watching her son get beaten up until he truly realises his potential.
Mehreen Pirzada did little for me in this film. She gets enough time in the first half to build her character but her performance lacks that grit.
Check Out the Trailer of Pattas:
Sathish is amazing all through as he brings those chuckles every now and then with his character of Dhanush's partner in crime.
Naveen Chandra as the lead antagonist Nilan's character is so run off the mill that I'm guessing apart from the action chops he may not have needed much to prepare for his role. As for, Nassar he pretty much does what he's expected to do in his cameo role.
Final Thoughts:
Pattas is a true Pongal treat for Dhanush's fans who love him for his mass entertainer quotient. Sneha gets a good part and does justice to it. The film is not powerful enough to make you Google search about Adumurai but will surely make you crank up those speakers to "Chill Bro" and dance. All in all, its predictability pulls it down but the performances save it from becoming a bore.