It was the first time that we saw Srishty Rode's anger on Bigg Boss 12 two days back. Who would have thought that an otherwise calm Srsihty will lose her cool on Shivashish Mishra? But then this is Bigg Boss, we are talking about. This house has the capability to bring out your demons. It all started during the nominations task in which Srishty kidnapped Shiv's partner, Sourabh and the former was asked by her to destroy all his and Sourabh's clothes, in order to save themselves from getting nominated. Shiv got a tad bit aggressive, but he did bring out all the clothes, as Srishty asked him to.
As he asked Srishty, if the clothes that he was wearing had to be destroyed too, that's when Srishty lost it. She started calling him a loser and told him that she wouldn't have let him destroy all his and Sourabh's clothes anyway.  She started shouting her lungs out and told everyone that how he is a spoilsport and just wanted to instigate her. Shivashish didn't keep quiet and his aggression reached another level. And that was the start of the war between Srishty and Shivashish. Bigg Boss 12: Here's Why Sreesanth Got Pissed at Romil Chaudhary's Leg Spin Comment on Him.
After the task, Srishty kept taunting Shivashish indirectly by singing this song:
And Shiv kept doing the same. There came a point when he sang this song:
Three hours later, Srishty reacted and got aggressive, as she thought that Shiv indirectly called her a pu**y, which is a dirty word for a woman's private parts. She got so angry that she wanted to leave the house and kept requesting Bigg Boss to call her in the confession room.
We asked you, our dear readers, if Shiv really meant what he said, and while 52 percent of fans think he didn't mean it, rest of the 48 percent thought that he insulted Srishty on national television.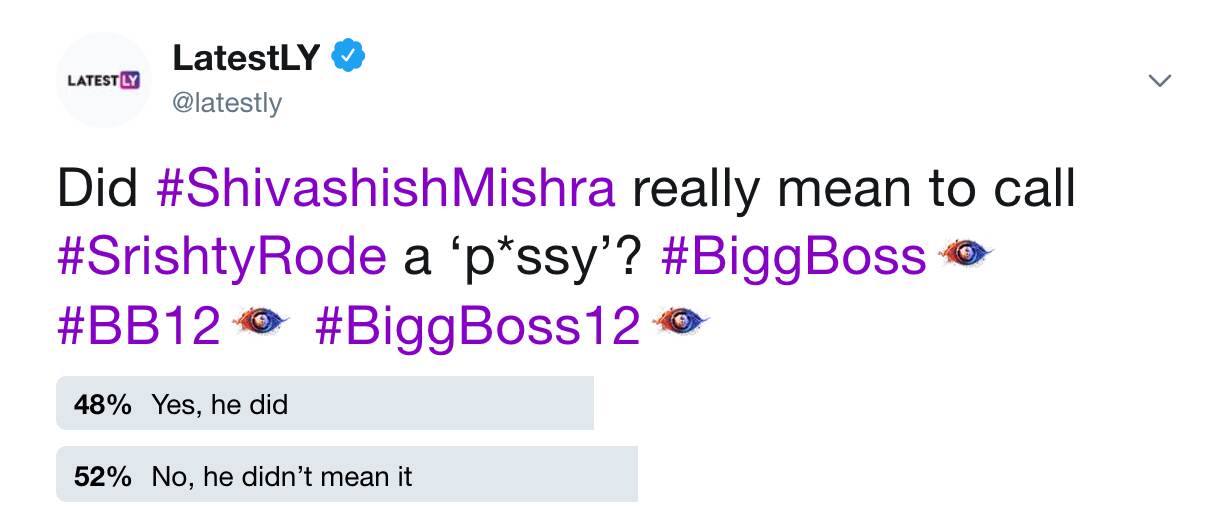 Will Srishty leave the house? Will Shiv apologise to her? We will find out on tonight's episode of Bigg Boss 12.