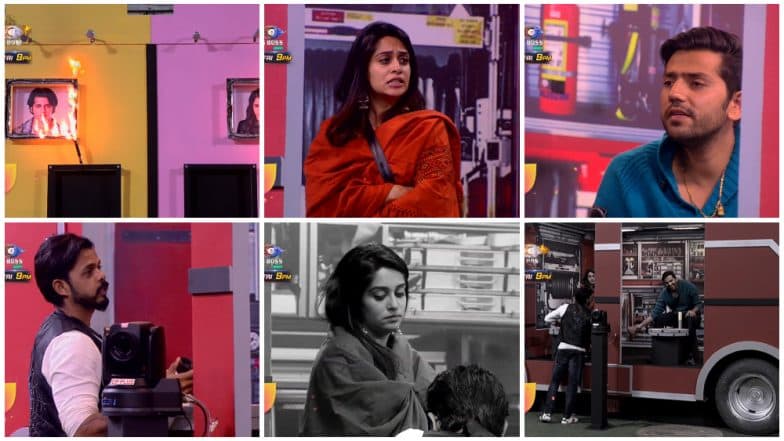 Bigg Boss 12 is the perfect platform where we get to see changing relationships. While some form for a lifetime, some seem to form for a lifetime but fizzle out soon after coming out of the show. And while this season also saw pretty tagde relationships form in the house, Sreesanth and Dipika's looked to us like one bond that would last forever, especially after Sree's kids addressed Dipika as their 'bua' (father's sister) and Dipika's husband Shoaib gave Sreesanth the darjah of his Saale Saheb (wife's brother). However, this relationship has now seen a crack because of the Ticket to Finale task. Bigg Boss 12: Dipika Kakar Finally Takes a Stand for Herself, Goes Against Sreesanth
Dipika pointing Sreesanth's flaws did not go down well with the latter. The bhai-behen duo then have a showdown in the washroom, where Dipika tells Sreesanth that he does not understand her. After this, Sreesanth gets into an argument with Karanvir in the living area yet again, after which Sree got into his classic 'I am done with this house/game' rant and started banging the confession room door and the store room door to get out. Bigg Boss 12: Karanvir Bohra Calls Sreesanth a 'Cheater' on the Show, the Latter Takes It Personally; Watch Video
Moving on, the game then sees an interesting turn where Sreesanth and Dipika's bond is put to test yet again. Dipika and Romil are put together and they have to mutually decide between Karanvir and Surbhi. And what adds to Sreesanth's anger, is seeing his sister defending Karanvir during the task. With this, Sree goes and strikes a deal with Romil.
He tells Romil that in return for him offering his seat to Sreesanth, he will support and save Romil. Romil then questions Sree that if he was to choose between him and Dipika, who would Sree save and without giving it a second thought, Sree takes Romil's name and they have a deal.
Well, the crumbling relationship between Dipika and Sreesanth sure breaks our hearts, for we've seen them stand by each other a lot of times in the house previously. We've seen Dipika and Sreesanth prove their loyalty and support to each other throughout their journey in the house, but looks like the game has finally crept up between them and is creating lots of differences. What do you guys feel about this one relationship crumbling in the house, as the show inches towards the finale?