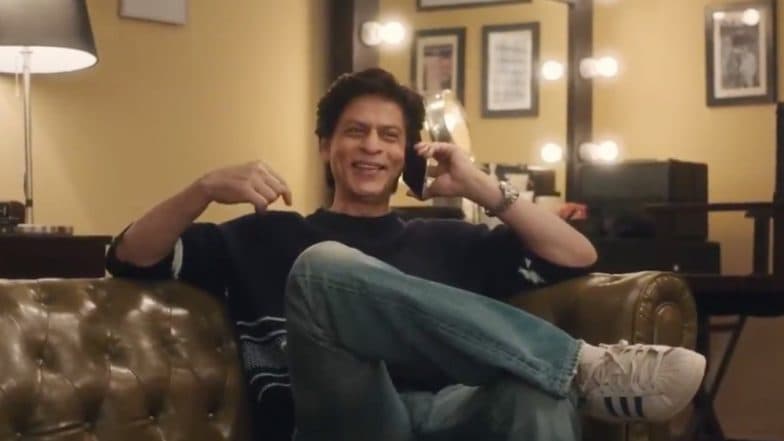 While we have known all about Shah Rukh Khan's production working on upcoming Netflix Original shows such as Class of 83 and The Bard Of Blood, there have also been speculations about the actor working on a Money Heist remake starring himself for the digital platform. Despite the actor denying this in his recent interaction, it looks like Shah Rukh is considering a digital debut or at least his recent video with Netflix India suggests so. Netflix and his production house, Red Chillies Entertainment shared a video featuring Shah Rukh Khan that is an announcement for a surprise dropping on August 22.
Netflix captioned the teaser as, "Still waiting on that callback, @iamsrk".In the teaser, we see Shah Rukh having a conversation over the phone about the role of an interrogator. In his usual charming manner, he says he's such a good actor that he can do any role but is shocked when gets to know that it's not for a film but for an intelligence agency recruitment. Sorry Folks but Shah Rukh Khan has Not Bought the Rights of Spanish Show 'Money Heist' and He has No Plans of Remaking it.
Check out the teaser video here:
Still waiting on that callback, @iamsrk. pic.twitter.com/JJygsX9Wfw

— Netflix India (@NetflixIndia) August 19, 2019
Sharing the same video, Red Chillies Entertainment wrote on their twitter, "This has left us with so many questions…stay tuned to know more!" Well, August 22 does seem too long to wait for an announcement about Shah Rukh Khan but looks like we don't have an option. Shah Rukh Khan Celebrates Betaal Wrap-Up Party With Aahana Kumra, Vineet Kumar and Others – View Pics.
Although, it seems Shah Rukh may be promoting his upcoming production for the streaming giant starring Emraan Hashmi. The Bard Of Blood will be a seven-episode show which is based on Bilal Siddiqi's bestselling book of the same name. The series revolves around four intelligence officers whose cover gets blown before the secure the important information. Emraan Hashmi plays the role of Kabir Anand in the series.