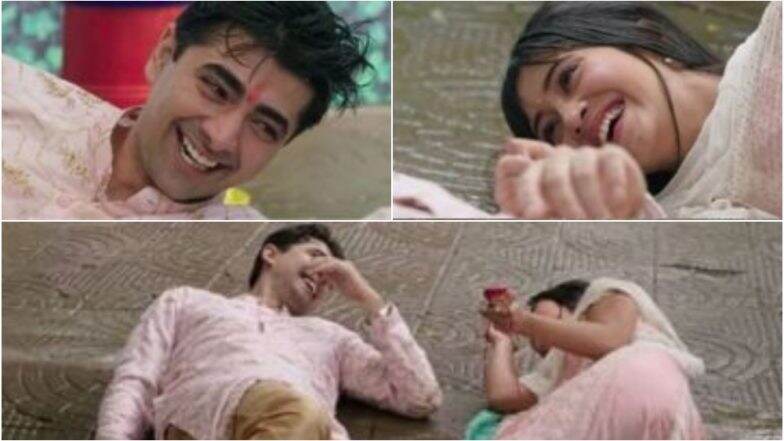 In yesterday's episode of Yeh Rishta Kya Kehlata Hai, we saw Vedika (Pankhuri Awasthy) is annoyed by Naira's presence while Kartik engages in a heated argument with the latter. Later, the Goenkas are taken aback by his stern decision. Tonight's episode starts with Naira (Shivangi Joshi) and Kartik (Mohsin Khan) sitting beside Kairav's bed. Kairav gets up and asks why are they looking sad or are they angry. Just then a nurse comes with an injection, Kartik gets scared seeing the injection and turns his face around. Kairav and Naira laugh seeing Kartik's reaction. Kairav tells Naira to tell the story about Kartik when he fainted, Kartik gets upset as both of them are making fun of him together. Kairav has a good time seeing both of them together and gets happy. Yeh Rishta Kya Kehlata Hai August 22, 2019 Written Update Full Episode: Kartik Refuses to Sit for the Puja with Vedika and Instead Decides to Stay with Naira and Kairav
Back in the hospital, Naira sees a ward boy who is wearing a rakhi and remembers Naksh. Kartik sees this and asks did she ever think about Naksh all the years that she hid from them. Kartik says that he is with Kairav and she can go if she wants to tie a rakhi to Naksh. In the Goenka household, Vedika tells Suhasini that Naira has said that once Kairav will be fine she will take him and leave from everyone's life. Suhasini says she can go wherever she wants, but Kairav will come back to the Goenka house only.
Meanwhile, Naira gets emotional praying to God as she misses Naksh and says she will try to tie Naksh a rakhi this year. She prepares a rakhi thaal for Naksh. On the other hand, Gayu ties Naksh a rakhi and Kaveri asks him to eat food, but he says he is not hungry and tells them to have it. Naksh misses Naira but also feels resentment towards her for what she did to all. Naira comes outside the Singhania household but is scared. Just when she is about to enter, the guard stops her. Naira says that this is her house and that she is the daughter and he cannot stop her from entering. Naira says she wants to tie Naksh a rakhi, but just then Naksh comes and says after five years. Yeh Rishta Kya Kehlata Hai August 21, 2019 Written Update Full Episode: Suhasini Accepts Kairav, But Doesn't Want Naira Back In Kartik'S Life
Back in the hospital, Kairav asks Kartik about the rakhi function and tells him that Naira used to tie a rakhi to Lord Ganesha. Kairav says he also wants a sister and tells Kartik that he and Naira should give him one sister. Meanwhile, back at the Singhania house, Naira trips and falls when coming towards Naksh to tie him a rakhi. Naksh laughs but he too falls down and both of them laugh and cry together. Naira says she is sorry, but Naksh says he hates her and goes inside. Naira holds him back and asks him to forgive her. Naksh asks her why she did not come to him when she was facing problems and in the meanwhile, Devyani, Kaveri, and Gayu come out and see Naira and are shocked to see her holding Naksh.
In the next episode, Naksh asks Naira to come to his place with Kairav. On the other hand, Suhasini tells everyone that she will not let anybody take Kairav from the Goenkas.