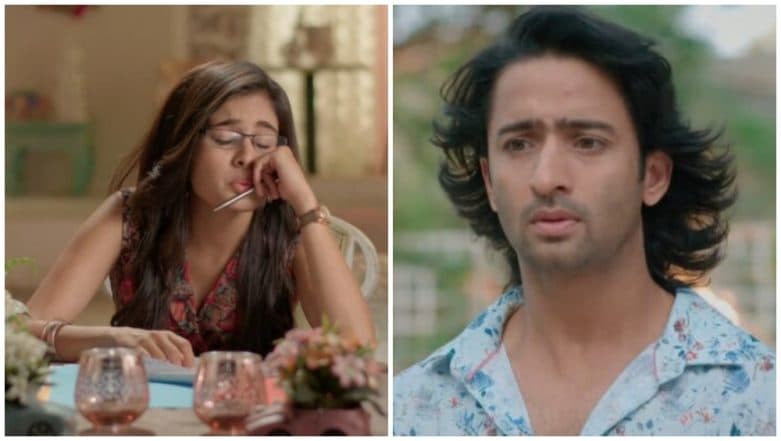 In the last episode of Yeh Rishtey Hain Pyaar Ke we saw Mishti questions Kuhu after learning about her conspiracy. Later, Abir is confused when Mishti tries to express her love to her. Tonight's episode starts with Abir (Shaheer Sheikh) is confused as what does Mishti (Rhea Sharma) wants to tell him. Abir hears Mishti telling about love and is more confused. Mishti is not able to tell about her feeling directly so is trying to tell him indirectly. Mishti tells Abir that she knows that the painting is of her and tells Abir that she loves him, but Abir is not able to hear it as Parul comes to talk about something so he tells Mishti that he will call her later. Parul comes to talk but thinks she should not reveal about Meenakshi to him as she might remove her from the house and changes the topic. Meenakshi comes and tells she came to take Parul with her as she wants to prepare a special dish and takes her inside the kitchen. Yeh Rishtey Hain Pyaar Ke 26 July, 2019 Written Update Full Episode: Mishti Confronts Kuhu and Asks Her Why She Tried to Malign Her Name and Vows to Confess Her Feelings for Abir.
On the other side, Kunal calls Kuhu in his office and questions her how did Mishti caught her so soon. Meanwhile, Mishti comes to the Rajvansh and tells Jugnu to inform Abir that she has come to meet him. Back in the office, Kunal tells Kuhu that she can back off and that he will do whatever he wants to do. In the Rajvansh, Abir comes to meet Mishti, just then Kunal comes there and ask Mishti what is she doing here. Meenakshi also comes and tells that she is happy to see her as she wants some help from her as she might know what Kuhu likes.
Meanwhile, Varsha and Jasmit meets Kuhu in the market. Jasmit tells Varsha to go home and she will come with Kuhu later. On the other side, Meenakshi takes Mishti inside the room and shows her some photographs of the mantap design as she wants to surprise Kuhu, Mishti selects one of the designs. Mishti leaves from there.  Yeh Rishtey Hain Pyaar Ke July 25, 2019 Written Update Full Episode: Abir Refuses to Believe That Mishti Tried to Blackmail Kunal with Shweta's Pics.
There in the market Jasmit asks Kuhu did something happened between her and Kunal and advise her that during the sangeet she should confess about her feeling through song.
On the other side, Mishti thinks how she will confess to Abir about her feelings, just then she hears Abir telling everyone that he will tell openly to the person he loves through songs. Mishti gets an idea of how to express her feeling and leaves from there. Meanwhile, Meenakshi tells Kunal why did he fight with Kuhu and advise him to make her understand so that she is not angry with him and reveals to all about their plan. They both talk about the plan on how to make Abir and Mishti separate from each other.
The engagement function of Kuhu and Kunal starts, all the guest come. Abir gets ready for the function, dadaji comes and tells him that he has a feeling that Mishti will express her feelings today. Meanwhile, Meenakshi comes to Kuhu and asks why is she looking so upset, Kuhu says she is fine.
In the precap, Mishti reveals about her feeling to Abir in the engagement function of Kuhu and Kunal, Meenakshi comes to know about it.