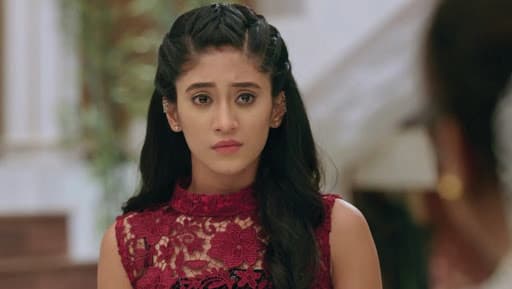 In yesterday's episode of Yeh Rishta Kya Kehlata Hai, Suhasini and Naira team up to gather evidence against Vedika after they suspect her. Naira plans to attend the Christmas party at the Goenka's in disguise. In tonight's episode, we see Vedika asks Kartik (Mohsin Khan) what dress should she wear? Kartik tells her whatever she likes she should wear it. Vedika tells Kartik that she has not invited Naira (Shivangi Joshi)  for the party. Kartik pretends that he is happy and tells Vedika to carry on. Kartik thinks he will miss Naira but he is helpless. Yeh Rishta Kya Kehlata Hai January 6, 2020 Written Update Full Episode: Naira and Suhasini Join Hands to Catch Vedika Red-Handed.
Suhasini calls Naira and asks if she is ready with the plan. Naira tells her she is ready and tells about her plan to Suhasini. Kairav and Vansh are happy as the Christmas party is going to happen. Kairav tells Kartik that he loves the Christmas party. Kairav also tells that Naira and he used to celebrate Christmas in Goa. Kartik tells thank you to Vedika as she organized a very good party. Vedika is happy as Kartik is happy and enjoys the moment. Vedika wishes that Kartik forgets Naira soon. Suhasini and all come to the party. Suhasini lauds Vedika for her work.
All the children pray and write their wishes on a piece of paper and keep in the Christmas tree. Vedika impatiently waits for Umesh Gupta so that his work is done and she would be relaxed. Just then Vedika sees Umesh Gupta entering the house and goes to meet him. Kairav asks Vedika will Santa Clause not come to their party. Just then Naira comes dressed as Santa Clause. The children are happy to see Santa and dance along. Suhasini tells Santa to give chocolates to children. Suhasini and Naira see Vedika go to meet Umesh Gupta.
Suhasini tells all the kids to dance and signs Naira to go up and see what Vedika is up to. Naira goes upstairs and sees her and Kartik's room and gets emotional. Kartik also feels that Naira is around as he misses her a lot.  Vedika gives Umesh Gupta money and tells him to leave as soon as possible. Naira watches them. Umesh tells after the operation his expenses are more, he has to pay the doctors fees, his medicines, etc. Naira thinks why is Vedika paying for Umesh's operation expenses. Vedika tells Umesh that he should talk with Pallavi henceforth regarding this. Vedika shows Umesh the way out and tells him to be careful so that no one sees him. Naira video shoots everything. Yeh Rishta Kya Kehlata Hai January 3, 2020 Written Update Full Episode: Kartik Returns With Vedika Instead of Naira and Leaves His Family Shocked.
Naira rushes down before Vedika notices her. Naira dashes Kartik who holds her in his arms. Vedika sees them from upstairs and feels that it is Naira. Vedika goes down to check on it. When Vedika comes down she goes near the Santa and pulls out the beard, she is shocked to see  Suhasini. Vedika asks Suhasini how come she has become the Santa Clause. Suhasini tells that Santa had to go for some work so she dressed herself as Santa and is entertaining the kids. Vedika still doubts that the Santa was Naira and feels something is fishy.
Meanwhile, Naira follows Umesh Gupta to find out the truth. Naira could not follow Umesh Gupta further as he takes a cab and goes from there. Naira thinks that she will find out the truth and punish the culprit. In the precap, Naira overhears Umesh and Pallavi taking and comes to know the truth that she was given Umesh Gupta's kidney and not Vedika's