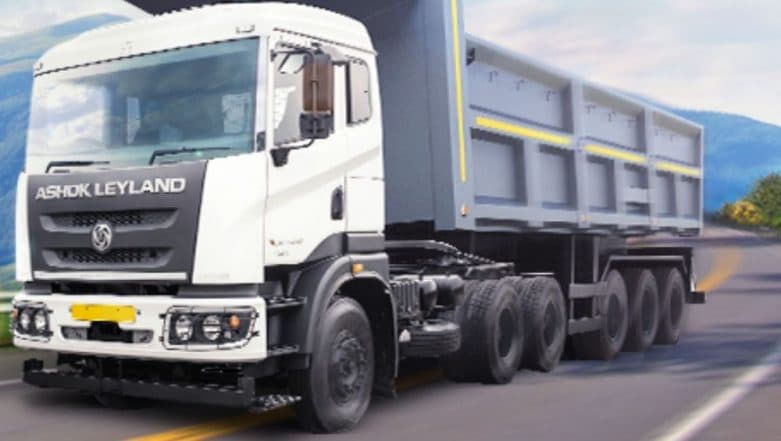 Chennai, September 9: Ashok Leyland on Monday announced non-working days at its various manufacturing facilities on the back of weak demand in September.  The company announced in a filing to BSE that "Following are the non-working days at our various plant locations during September 2019 due to continued weak demand for our products." Economic Crisis Grips Auto Sector Completely, Passenger Vehicle Sales in August Dip by 31.57% Vis-a-Vis 2018, Suffer Worst Drop in a Decade.
Ashok Leyland has announced 16 non-working days for its facility in Ennore, five days at Hosur (Tamil Nadu) unit, 10 days each in Alwar (Rajasthan) and Bhandara (Maharashtra) unit and 18 days in Pantnagar (Uttarakhand) facilities.
The move by the company follows slowdown in the automobile sector that has forced many manufacturers and component suppliers to cut production and plan temporary plant closures. The development comes as the country's auto sector is struggling against a slowdown in sales and a slew of job cuts. Earlier on Thursday, Maruti Suzuki announced a two-day shutdown at its Gurugram and Manesar production units on September 7 and 9.
With economic crisis gripping the automobile sector in the country and the sales have gone tremendously down, Union Transport Minister Nitin Gadkari last week stated that the Narendra Modi government is already with the automobile industry and assured that the Finance Ministry find out a solution soon.
However, fresh reports published today highlighted that the ailing automobile sector has suffered its worst decline since 1997-98.  Society of Indian Automobile Manufacturers (SIAM) stated that the overall passenger vehicle sales dropped by a significant 31.57 percent last month with 1,96,524 units sold as compared to 2,87,198 units in August 2018. These numbers prove that things are not going well in the auto sector.