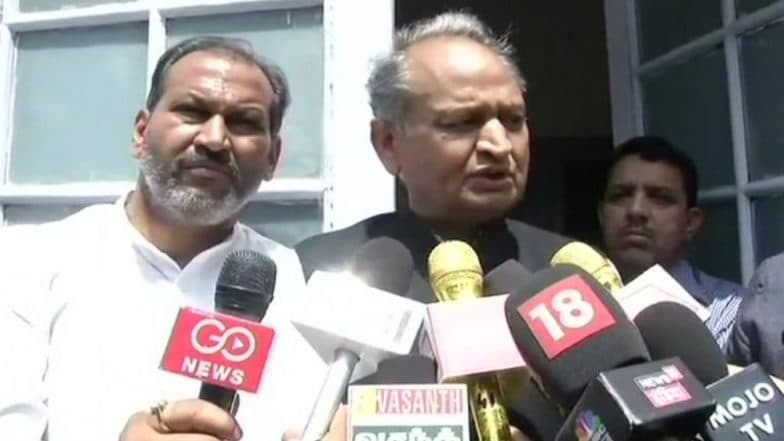 Jodhpur, November 6: Congress veteran Ashok Gehlot Tuesday claimed that various constitutional institutions of the country were facing "grave threat" from the present government. "The country is passing through a difficult time today. The top level institutions of the country like the Election Commission, NITI Ayog, CBI, judiciary are under threat today and being weakened," said Gehlot.
Gehlot, who reached his home town Jodhpur Tuesday to celebrate Diwali with his family ahead of the December 7 state assembly elections, will also be holding extensive consultations with the party workers and seeking their opinion on selection of various candidates for the upcoming poll.
Attacking the Modi government, Gehlot said the democracy of the country was in danger and exhorted youths to support the Congress both in the assembly and the Lok Sabha elections and save democracy. "Democracy of the country is in danger today and I call upon the youths of the country to come forward and bring back the Congress to power for the betterment of the country and democracy", Gehlot said. Rahul Gandhi Appoints Ashok Gehlot as Congress General Secretary
On the first day of his visit here, Gehlot met workers from the three constituencies of Jodhpur city - Soorsagar, Sardarpura and City - and is scheduled to meet those of seven 7 rural constituencies - Osian, Phalodi, Lohawat, Shergarh, Bhopalgarh, Luni and Bilara - on Wednesday. He said the selection of the candidates is a team work and an absolute transparency was being maintained in finalising their names.
Terming the ongoing poll campaign by BJP president Amit Shah and Rajasthan Chief Minister Vasundhara Raje, as "political tantrums", Gehlot said the people have already decided to choose Congress this time. "People have decided whom they have to choose this time. Even the rallies and other tantrums of Amit Shah and Vasundhara Raje would not work," he said, asserting that the Congress would win with a huge margin this time.