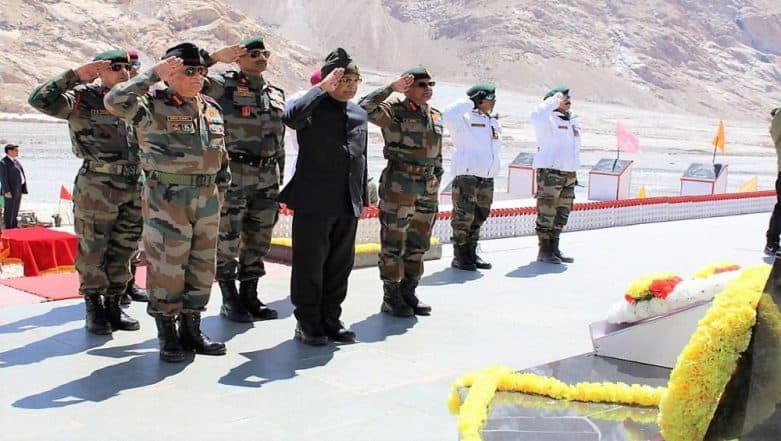 Siachen, May 10: President Ram Nath Kovind who is also Supreme Commander of Indian Armed Forces visited the world's highest battlefield, Siachen today. He was accompanied by Chief of the Army Staff, General Bipin Rawat and Lt Gen D Anbu, GOC-in- C, Northern Command. After reaching Thoise airfield, the President flew to Siachen. He undertook an aerial survey of the glacier. At one of the forward posts of Siachen Glacier, he also interacted with troops.
The President Kovind also visited the Siachen Base Camp where he laid a wreath at the Siachen War Memorial in memory of the brave soldiers who made the supreme sacrifice in service of the nation. The Supreme Commander addressed troops at the Siachen Base Camp. He appreciated the efforts of the soldiers serving in harsh climatic conditions. The President also assured the soldiers that their interests are paramount in the heart of the nation.
President Ram Nath Kovind became the first president to visit the camp since the visit of former President APJ Abdul Kalam in 2004. Siachen is considered to the highest battle-ground, and both India and Pakistan have had repeated border tensions at the glacier since the last thirty years.
Siachen Base Camp is approximately 6 hours drive north from the town of Leh which is in the Indian State of Jammu and Kashmir. It is the Base Camp of Indian Army in the Siachen Glacier region, within Indian territory. The temperature goes down to -50 degrees C during winters. The Indian Army handles the Glacier operations from the Base Camp.
Operation Meghdoot was launched on 13 April 1984 to take control so Siachen Glacier. This military operation was unique as the first assault was launched in the world's highest battlefield. Indian Troops were able to get hold of the strategically important Siachen Glacier.