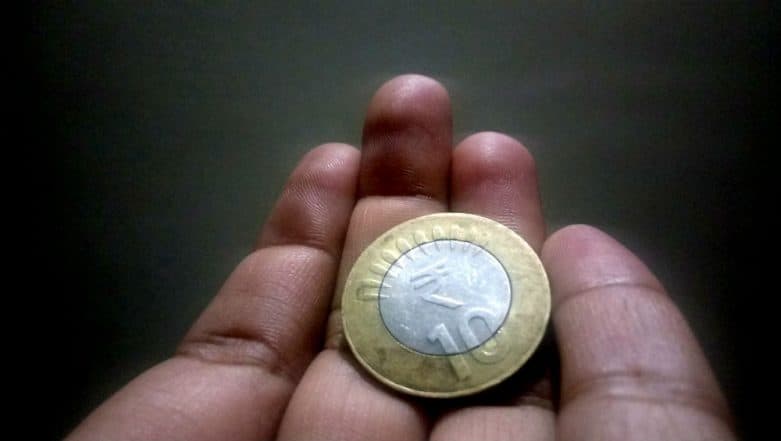 Mumbai, February 28: The rumours of fake Rs 10 coin in circulation started the rejection of the currency coins in many parts of the country. In a bid to clarify that all 14 designs of Rs 10 coin are genuine and valid, the Reserve Bank of India is sending phone notifications to people to make sure that nobody denies from accepting the currency coins. In a notification that has been circulating on mobile numbers, the RBI states, "Rs 10 coins have been issued with both, 10 and 15 radiating lines. Both are valid. Accept them without fear."
The Reserve Bank has also advised banks to accept coins for transactions and exchange at all their branches. In case an individual wishes to know more about the coins and its validity, the RBI has come up with a helpline number-14440 on which users can give a missed call and get all the required information.
The RBI clarified that as coins have longer life, coins of different designs and shapes circulate in the market at the same time. It said, so far the Reserve Bank has issued ₹ 10 coins in 14 designs and the public has been informed of their distinctive features. All these coins are legal tender and can be accepted for transactions. The RBI had also warned people about facing legal action for rejecting such coins.
Earlier in January 2018, the RBI said that it has come to the notice of Central Bank that in certain places there is reluctance on part of traders and members of public to accept Rs 10 coins due to suspicion about their genuineness. "It is clarified that the Reserve Bank puts into circulation, the coins minted by mints, which are under the Government of India. These coins have distinctive features to reflect various themes of economic, social and cultural values and are introduced from time to time", the RBI said in a statement.
The Reserve Bank has in the past also issued a statement requesting members of the public to continue to accept coins of Rs 10 denomination as legal tender in all their transactions without any hesitation. "It has been reported that some less-informed or uninformed persons who suspect the genuineness of such coins are creating doubts in the minds of ordinary people including traders, shop-keepers, etc., impeding the circulation of these coins in certain pockets of the country causing avoidable confusion", the release said.
The RBI has advised members of the public not to give credence to such ill-informed notions and ignore them and continue to accept these coins as legal tender in all their transactions without any hesitation.