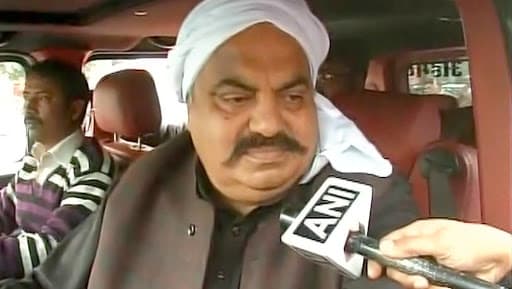 New Delhi, April 12: Yogi Adityanath-led Bharatiya Janata Party government on Thursday admitted before the Supreme Court that former Samajwadi Party MP and dreaded don Atiq Ahmed had engineered the abduction if businessman Mohit Jaiswal in December last year and got him assaulted in his jail cell inside Deoria jail.
Earlier, the apex court had sought a report from the UP government after taking cognisance of a media report which stated about the audacious abduction and assault of a businessman inside a prison cell. In prison, even the dreaded don was lodged. UP Jail Inmates Allege Death Threats From Staff, STF After Video of Prisoners Consuming Alcohol Goes Viral. 
Following the incident inside Deoria Jail, the state government had stated the Supreme Court that it shifted Ahmed to Bareilly district jail. Also, it informed that the Superintendent and other police officials - complicit in allowing the don's goons to take the businessman inside the prison cell - were found guilty and disciplinary action was taken against them.
According to the reports, Ahmed is facing 109 cases of which 17 are for murder, 12 under UP Gangsters Act, eight under Arms Act and four under UP Goondas Act.
Also, some inmates of Raebareli jail in Uttar Pradesh on November last year alleged getting death threats from senior jail officials and the Special Task Force (STF) officers. The Additional Director General (Prisons) of Uttar Pradesh Police, however, rebuffed the charges. The revelation comes a day after six jail officials, including a senior jail superintendent, were suspended for failing to check the clandestine entry of liquor and firearms inside the prison.