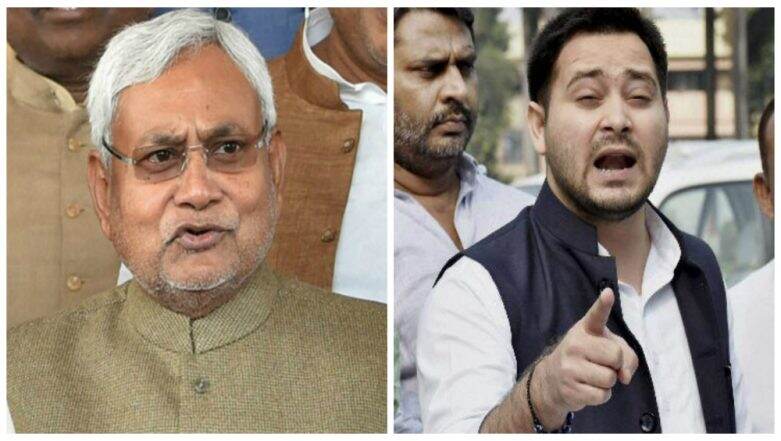 Patna, November 20: NDA constituents, JD(U) and BJP,on Tuesday took strong exception to the use of foul language against Chief Minister Nitish Kumar by leader of the opposition in the state assembly Tejashwi Yadav on his twitter handle.
In a strongly-worded statement, BJP spokesman Nikhil Anand deplored a tweet by Yadav, a formerl Deputy Chief Minister, wherein he had addressed Kumar as "Shri Shri Dhikkarvadi 420 Nitish Chacha ji" (condemnible, fraudulent Nitish uncle".
श्री @YadavTejashwi जी! राजनीति में संवाद की मर्यादा होती है। विपक्ष के नेता के तौर पर आरोप- प्रत्यारोप करें लेकिन बिहार के मुख्यमंत्री के श्री @NitishKumar जी के बारे में इतनी घटिया अभिव्यक्ति आपकी शिक्षा, ज्ञान, संस्कार, विरासत और राजनीति के वैचारिक खोखलेपन को जाहिर करता है। https://t.co/1zDWOv5g3D

— NiKHiL AnAnD (@NikhilAnand2007) November 20, 2018
Yadav had made the remark while sharing a report by a news portal about the current imbroglio in the CBI. In the report it has been alleged that Bihar Deputy CM Sushil Kumar Modi and a top official in the PMO were behind cases lodged against Yadav, his father Lalu Prasad and other members of their family in the IRCTC land scam. Tejashwi Yadav Skips Birthday Celebration in Bihar Amid Tej Pratap-Aishwarya Rai Divorce Row.
The scam pertains to the period when Prasad was serving as the Railway Minister in the UPA-1 government. Kumar had walked out of the alliance he had formed with the RJD and the Congress after Yadav's name cropped up in the case.
The Chief Minister went on to form a new government with the BJP which promptly came out with offer of support. Yadav, who has been named as the Chief Ministerial candidate of his party for the next assembly polls, alleged that the report vindicated his claim that the cases lodged against him and his family were part of a conspiracy hatched by Kumar in collaboration with the BJP.
Anand, however, slammed Yadav saying "despite having entered public life, Tejashwi seems to have no respect for constitutional posts and people holding the same. His choice of words for the Chief Minister denote his lack of education and decency".
"By using terms like Dhikkarwadi and 420, Yadav has insulted not just the Chief Minister, but all the people of the state whose support Kumar enjoys. The leader of the opposition must render a public apology", Anand said.
Meanwhile, Kumar's JD(U) also took a swipe at the RJD leader and accused his party of having converted politics into a "family-owned business". "You had problems with Nitish Kumar seeking an explanation. Now you and your family are frantically giving explanations before the court of law", JD(U) spokesman and MLC Neeraj Kumar said, referring to Yadav's tenure as Deputy CM.
"What an irony. The father is in jail and the son is giving lectures on probity. Shame on you", the JD(U) leader said in an obvious reference to the incarceration of Prasad, who is serving sentences in a number of fodder scam cases.