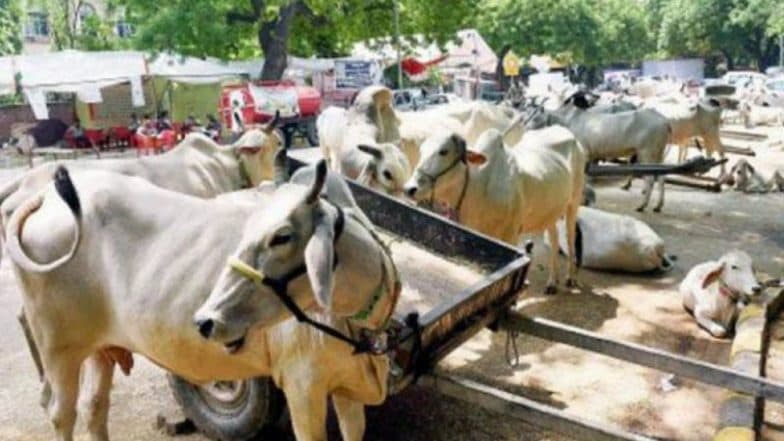 Dharamshala, December 14: In a rare show of unity, the BJP-ruled Himachal Pradesh assembly on Thursday passed a resolution moved by a Congress leader to declare cow as Rashtra Mata (mother of the nation). The state government will now forward the resolution to the Centre. Congress MLA Anirudh Singh moved the resolution to declare cow as the mother of the nation, which was supported by BJP legislators.
Singh also asked the state government to enact a law to prevent incidents of lynching and cow vigilantism. "Cow is not bound to any caste, creed or religion and makes a huge contribution to humanity," Singh said, adding that cow was not a political issue. "People abandon cows when they stop giving milk, so there is need for such a move," the Congress legislator further said. Can Cow Urine Cure Cancer? Gomutra Better Than Chemotherapy Says Gujarat University.
After the resolution got cleared, animal husbandry minister Virender Kanwar said several cow sanctuaries will be set in different districts for abandoned cows. "Rs 1.52 crore has been sanctioned for a sanctuary in Sirmaur district. Other sanctuaries are proposed for Solan and Kangra districts," Kanwar was quoted as saying. Legislators in Himachal Pradesh also urged the government to set up a cow ministry like one in Rajasthan.
The Himachal Pradesh government currently spends Rs 17 crores collected from temple offerings and Rs 8 crore collected from cow cess on the welfare of bovines, BJP MLA Kishori Lal told TOI. BJP-ruled Uttarakhand was the first state to declare cow as Rashtra Mata in September.