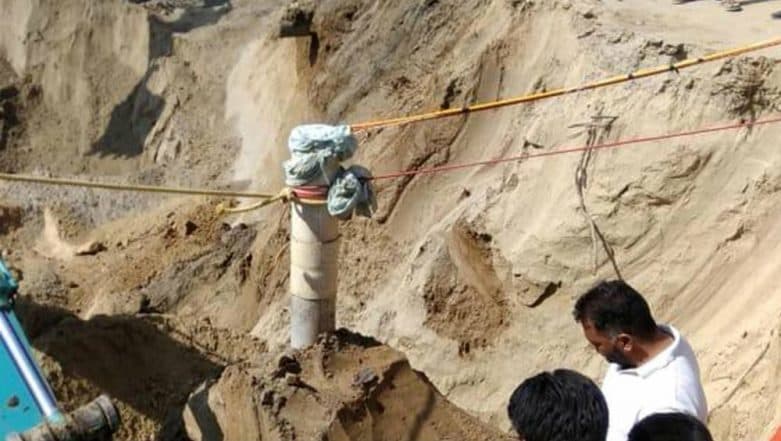 Sangrur, June 11: Fatehveer Singh, who had fallen into a borewell in Punjab's Sangrur, was retrieved by rescuers on Tuesday morning. Fatehveer Singh was trapped in the 150-foot-deep abandoned borewell for over 110 hours before he was rescued by officials of the National Disaster Response Force (NDRF). The two-year-old was rushed to a hospital, however, there is no official confirmation about his health condition.
According to his mother Gagandeep Kaur, Fatehveer Singh had stumbled into the borewell that was covered with cement bags on June 6. Since then, teams of NDRF, the Army and the district administration had worked day and night in a tunnel that was dug parallel to the abandoned borewell in a bid to save the child. The rescue team was comprised of 26 members of the NDRF, the army and the district administration staff. Amarinder Singh Orders Closure of All Borewells in Punjab.
Fatehveer Singh, Who Fell Into Borewell in Sangrur, Rescued:
#WATCH Punjab: Two-year-old Fatehveer Singh, who had fallen into a borewell in Sangrur, rescued after almost 109-hour long rescue operation. He has been taken to a hospital. pic.twitter.com/VH6xSZ4rPV

— ANI (@ANI) June 11, 2019
A movement in the child's body was noticed at 5 am on Saturday, almost 40 hours after he fell into the borewell. After that there was no movement in his body. An adequate supply of oxygen inside the well was provided and a camera was also used to monitor his condition. A team of doctors and ambulances were stationed at the spot to provide emergency aid to the toddler. Fatehveer Singh, Trapped in 150-Feet Deep Borewell in Punjab's Sangrur, Turns 2.
Due to lack of expertise and technical snags, the rescue operation was reportedly delayed. In view of the incident, Punjab Chief Minister Amarinder Singh on Monday directed Deputy Commissioners to ensure no open borewell existed in any of the districts and asked them to submit a report within 24 hours.