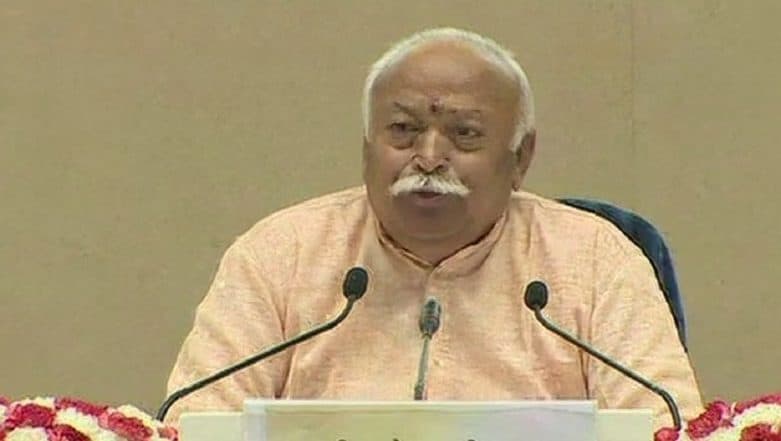 New Delhi, September 19: Rashtriya Swayamsevak Sangh chief Mohan Bhagwat today condemned lynching in the name of cows. Speaking at the three-day conclave, 'Bharat of Future' at Vigyan Bhawan in New Delhi, Bhagwat said that violence in the name of cow is wrong. The RSS chief also stressed the need for empowering women. He also said that all the languages of the country should be developed.
Speaking at the event, Bhagwat claimed that according to the nationalist point of view, all the people living in India are Hindus. The RSS chief also preached equality among all castes. He claimed that RSS workers did maximum number of inter-caste marriages. He said, "If you do a survey of intercaste marriages in India, maybe you will find the maximum percentage of those being swayamsevaks from Sangh."
Yesterday, speaking at the same event,  said that Hindutva means Indianness and inclusivity and if we don't accept Muslims, it's not Hindutva. The RSS chief also said that the primary aim of the Sangh was to unite the country. Bhagwat reiterated that the RSS would not contest any elections and its functionaries could not be office bearers of any political party. He further added that since Sangh's birth it was decided to stay away from politics.
On the opening day of the conclave, Bhagwat also praised the Congress for playing a "major role" in India's independence movement. The RSS is conducting a three-day conclave the 'Bharat of Future' event at Vigyan Bhawan. The RSS, however, claimed that it had issued an invite to a selected number of leaders from the Opposition camp, including former Tripura CM and CPI (M) veteran Manik Sarkar. Many celebrities also attended the conclave.