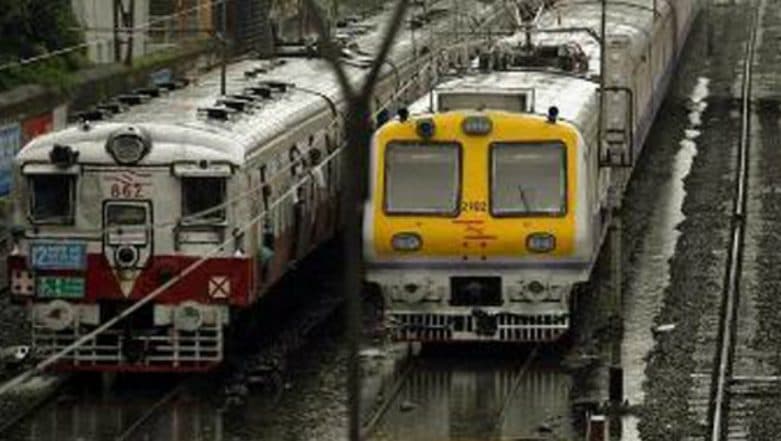 Mumbai, July 3: The Mumbai local train services have been affected due to the heavy rains that lashed the city. In the wee hours of Tuesday morning, the parts of Gokhale Foot Over Bridge (FOB) at Andheri railway station collapsed, injuring six people. The incident has disrupted train services on the western line.
According to the officials of Western Railways, the restoration work of overhead wire, which was damaged during the collapse, is underway and therefore, the trains on western line will be plying between Virar- Goregaon, and Bandra-Churchgate. Furthermore, the western railway has appealed the commuters to travel by railway only if was necessary.
Restoration of OHE & tracks bet Andheri & Vile Parle which is affected due to falling of part of ROB is underway. Trains are working bet Virar - Goregaon & Bandra-Churchgate but It is advised to travel only if its very necessary to avoid inconvenience please. #WRUpdates @drmbct

— Western Railway (@WesternRly) July 3, 2018
So far, only the western line train services have been affected due to the mishap, while the train services on other routes --central and harbour -- are running normally despite the heavy rains. The train services on these two lines have so far not been affected. The central railways on their official Twitter handle have also urged the commuters to not believe in any rumours. To curb rumourmongering, the officials have assured them that there was no need to worry about any untoward situation like the Elphinstone stampede, which was triggered last year due to a rumour. As a precautionary measure, the railways have also deployed Railway Police Force(RPF) staff on busy congested FOB.
Don't believe in rumours. Crowd management machinery on Central Railway stations have been strengthened.

Harbour line passengers are allowed to travel on Central Railway main line suburban section.

Please travel without panicking.

— Central Railway (@Central_Railway) July 3, 2018
After the Gokhale Bridge collapse was reported, Chief Minister Devendra Fadnavis had a telephonic conversation with the BMC Commissioner Ajoy Mehta and Mumbai's Police Commissioner. CM has directed the officials to ensure smooth movement of commuters on public bridges and also asked the BMC to increase the frequency of BEST buses on the roads for people's convenience.