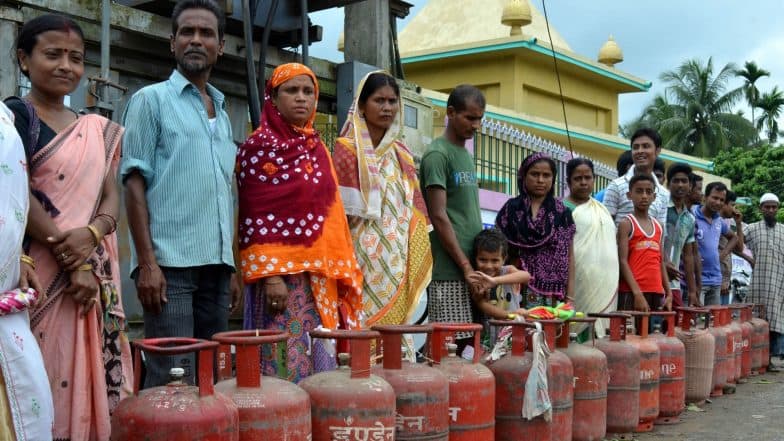 New Delhi, September 9: Narendra Modi-led National Democratic Alliance government has met its target of reaching 80 million low-income families under the marque scheme — Pradhan Mantri Ujjwala Yojana (PMUY) — seven months ahead of schedule. Through this ambitious scheme, low-income families use to get provides free cooking gas connections.
Launched on May 1, 2016, by the Prime Minister in his first tenure, this scheme aims at safeguarding the health of women and children. Apart from this, the programme tries to ensure the fundamental material transformation at the bottom of the pyramid by covering 715 districts. It has, until now, provided 80.33 million connections. Jharkhand CM Raghubar Das Launches Pradhan Mantri Ujjwala Yojana in Gumla
The Premier gave the 80th million connection to Ayesha Sheikh Rafique of Aurangabad Saturday, reports PTI. The agency further notes that Rafique wanted to cook biryani. The good news comes amid the time when Assembly elections are knocking the doors of Maharashtra, Haryana, and Jharkhand. In all these three states, the ruling party is BJP, and it is looking to garner the support of people again.
Earlier, PM Modi launched this Ujjwala Yojana from Ballia in Uttar Pradesh and allocated Rs 12,800 crore for it. Under the scheme, cash assistance of Rs 1,600 is given to each beneficiary to get a deposit-free new connection. The government states that clean fuel protects the users from the hazards of smoke inhalation, while it also helps avoids them to go to unsafe areas to collect firewood.