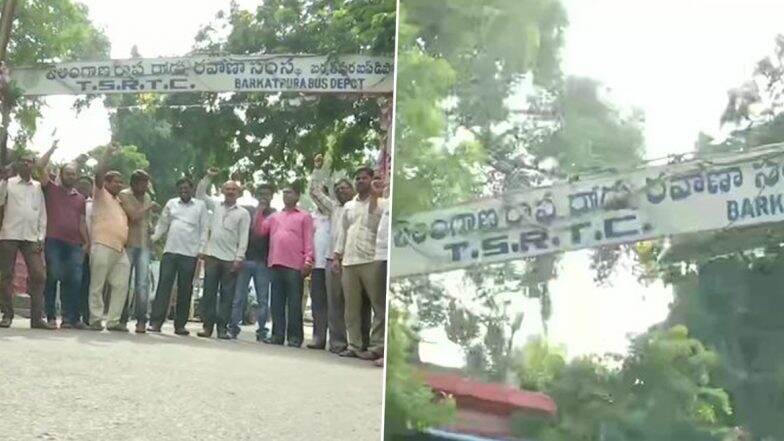 Hyderabad, October 11: Andhra Pradesh State Road Transport Corporation (APSRTC) on Friday extended support to the protest by the Telangana State Road Transport Corporation (TSRTC). The protest entered seventh day on October 11. The APSRTC declared protests at 128 bus depots across Andhra Pradesh on Sunday. TSRTC Strike in Telangana: Employees of TSRTC Begin Indefinite Strike in Hyderabad Over Their Long-Pending Demands.
According to a report published in CNN News18, the APSRTC's Joint Action Committee (JAC) in solidarity with the TSRTC employees has promised to intensify its stir in Andhra Pradesh in a phased manner. Even the teacher's union has also given support to the protest. TSRTC Strike in Telangana: Protest Enters Sixth Day, Union Leaders of Lorry, Taxi Extend Support to RTC Union to Intensify Stir.
Earlier in the day, the union leaders of lorry, taxi and drivers' joint action committees (JACs) have extended their support to the protesting employees of the TSRTC. According to a report by TOI, the unions threatened to go on strike along with the RTC union to protest over government's undemocratic move to finish unions.
On October 7, K Chandrasekhar Rao-led state government fired over 48,000 employees of the TSRTC. Rao had justified the action by calling it an "unpardonable crime". The KCR government's decision drew flak from various political parties. The government had earlier given a deadline to the protesting employees to end the strike by 6 pm on Saturday evening. However, the workers refused to end their protest.